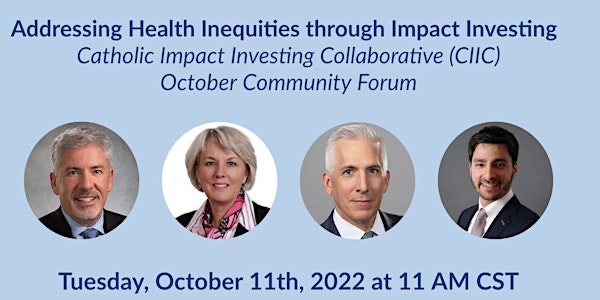 Addressing Health Inequities through Impact Investing: CIIC Community Forum
October's Community Forum will focus on Addressing Health Inequities through Impact Investing
About this event
CIIC is excited to announce our October Community Forum, part of an ongoing series of webinars focused on specific issues for CIIC community members to engage in open dialogue, exchange resources, and identify opportunities for mutual learning and collaboration.
Impact and place-based investing strategies have long allowed health care systems to earn a financial return on their investments while producing a positive social and environmental impact within their communities. This panel discussion will highlight Catholic organizations that have incorporated their mission or charism into their investment portfolios, and how they've been able to address local healthcare inequities through these investments.
Our Panelists will be:
Pablo Bravo, System Vice President, Community Health, CommonSpirit Health
Dr. Alexander Garza, Chief Community Health Officer, SSM Health
David Zuckerman, President, Healthcare Anchor Network (HAN)
Moderator: Tara Kenney, Adjunct Professor, University of Notre Dame
Catholic Impact Investing Collaborative (aka CIIC - pronounced "seek") was established in November 2014 as an informal "neutral space" for people to come together, share a meal and stories, and build relationships based on their spiritual as well as financial commitment to Impact Investing. Our goals are to share stories, build relationships, foster collaboration, and grow the Catholic Impact community, while leaving room for the Holy Spirit. CIIC was started in the U.S. Midwest, soon grew to the Northeast and other areas in the U.S., and is now expanding globally. CIIC is now looking to broaden its relationships and connections, spreading a message of the power and potential of Impact Investment to further the mission and values of Catholic institutions.