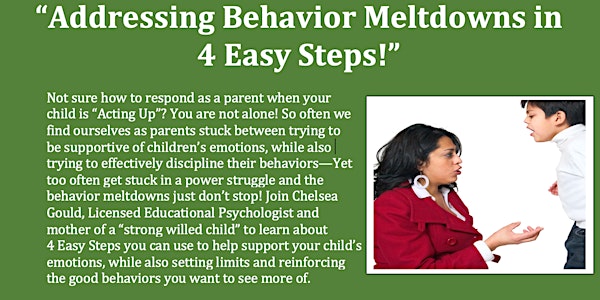 "Addressing Behavior Meltdowns in 4 Easy Steps!"
CVESD's Early Childhood Education Department is offering a Free Virtual Training for Preschool & TK Parents
About this event
9/2/21-UPDATE** Please use the following TEAMS link to access this presentation:
https://teams.microsoft.com/l/meetup-join/19%3ameeting_NzVmYmUzM2QtZDNjNC00OWFmLTg4YjQtZmFjN2FmYmJjZWVi%40thread.v2/0?context=%7b%22Tid%22%3a%22e87a6e0c-c08e-46b2-bb73-45dd072baa33%22%2c%22Oid%22%3a%22297605e3-b2ae-4282-a43a-4bd48efa8249%22%7d
Not sure how to respond as a parent when your
child is "Acting Up"? You are not alone! So often we
find ourselves as parents stuck between trying to
be supportive of children's emotions, while also
trying to effectively discipline their behaviors—Yet
too often get stuck in a power struggle and the
behavior meltdowns just don't stop! Join Chelsea
Gould, Licensed Educational Psychologist and
mother of a "strong willed child" to learn about
4 Easy Steps you can use to help support your child's
emotions, while also setting limits and reinforcing
the good behaviors you want to see more of.
This is a Microsoft Teams training so pre-registration through Eventbrite is required in order to receive the link and resources you will need for this session. Early registration is highly encouraged.
9/2/21-UPDATE** Please use the following TEAMS link to access this presentation:
https://teams.microsoft.com/l/meetup-join/19%3ameeting_NzVmYmUzM2QtZDNjNC00OWFmLTg4YjQtZmFjN2FmYmJjZWVi%40thread.v2/0?context=%7b%22Tid%22%3a%22e87a6e0c-c08e-46b2-bb73-45dd072baa33%22%2c%22Oid%22%3a%22297605e3-b2ae-4282-a43a-4bd48efa8249%22%7d
For sign up support and for any questions please call or email (619) 425-9600 x1492 or Karla.Naanep@cvesd.org