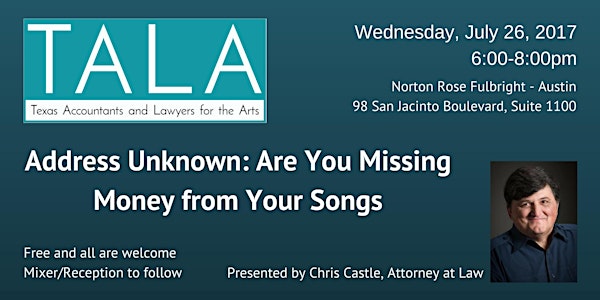 Address Unknown: Are You Missing Money from Your Songs
Location
Norton Rose Fulbright-Austin
98 San Jacinto Boulevard
Suite 1100
Austin, TX 78701
Description
Join TALA and Chris Castle for an educational workshop and mixer at Norton Rose Fulbright in Austin.
Chris will discuss the mechanics of the US statutory compulsory license for songs and how a little known provision of that law is being used to bypass the essential purpose of the compulsory license and potentially harm Texas songwriters.
The presentation includes a brief background on the compulsory license, a brief discussion on a recent class action settlement, and an examination of "address unknown" filings with the Copyright Office.
All are welcome. Seminar eligible for 1 hour Texas CLE credit.

6:15-7:15pm Chris Castle presentation "Address Unknown: Are You Missing Money from Your Songs"
7:15-8:00pm Mixer/Reception

Parking is on your own. We've found that one of the cheapest alternatives is the Austin Convention Center garage at 201 E 2nd St.
For information about the Austin Convention Center garage, click here.