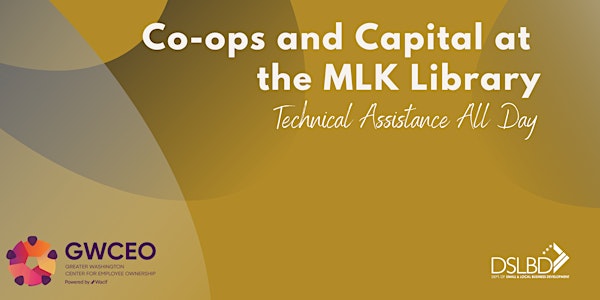 Additional DC Cooperative Technical Assistance at the MLK Library on 10/27!
This is an in-person appointment. Masks required. All then-current public health advisories will apply on the date of your appointment.
When and where
Location
Martin Luther King Jr. Memorial Library 901 G Street Northwest Washington, DC 20001
About this event
The Department of Small & Local Business Development's (DSLBD) Innovation & Equitable Development (Inno.ED) is excited to welcome Jennifer Bryant from the Greater Washington Employee Ownership Center to join us for in person techncical assistance on October 27th at the MLK Library.
If you are interested in employee ownership, cooperative conversion, or cooperatives generally, you can meet with Jennifer for free, one-on-one technical assistance about resources that can support you with cooperative development.
Public health requirements:
Masks will be strictly required to enter this appointment and must be worn at all times in this or any other DC Library facility. Hand sanitizer is available at all library locations.
See https://coronavirus.dc.gov/ for the latest District-wide public health updates and requirements. You can also check this site for information on where to access a vaccine.
Questions? Reach out to Jennifer at jbryant@wacif.org or to our team at Inno.ED@dc.gov.
WHERE TO FIND US IN THE LIBRARY!
On Wednesdays from about 10-4, with a one-hour break at 12-1 for events and lunch, we will typically be in the "First Floor Co-working" space that is to the left when you first enter the library at the main level. Our meeting rooms are some of the glass rooms in the center of that space. If you need assistance, you can ask for DSLBD or "Small Business" at any of the library information desks, or send us a quick email at Inno.ED@dc.gov.
Walk ins are welcome, but please not that pending the days schedule we may not always be available for walk-ins. Registering here will help ensure that we know to expect you and have team members available.