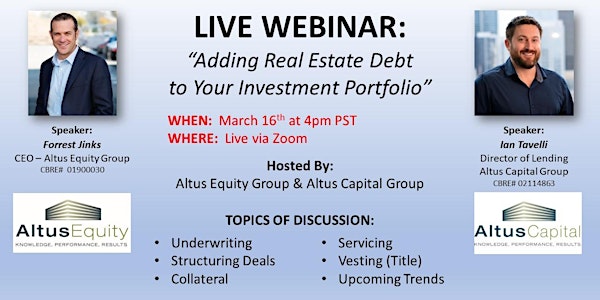 Adding Real Estate Debt Investments To Your Portfolio
Join us on March 16th to learn about how investors are about to take advantage of a title wave of private debt investment opportunities!
When and where
Date and time
Thursday, March 16 · 4 - 5pm PDT
About this event
In this presentation, we're joined by private debt investment experts Forrest Jinks, CEO of Altus Equity Group, Inc. and Ian Tavelli, Director of Lending at Altus Capital Group to explain all things Private Debt Lending, and how investors can capitalize in the next 12-24 months. In this meeting, we'll cover:
Strategies for Success in Private Debt Lending
Types of Private Debt
Advantages and Disadvantages of Private Debt Lending
Risks to Consider When Evaluating Opportunities
Key Terminology
Different Debt Structures to Maximize Success
And Many Other Private Debt Topics!
We hope to see you there on March 16th!
About The Speakers:
Forrest Jinks
Forrest Jinks is Founder and Chief Executive Officer of Altus Equity Group, Inc., where he also serves as the Chief Investment Officer and is a member of the Board of Directors. He has over 20 years of real estate investment and general business experience; and has successfully guided Altus as a sponsor on multifamily, industrial, BFR, and retail properties as well as starting or investing in businesses across other industries. Forrest is best known for his creative deal making collaborating across stakeholders to maximize alignment through the investment life cycle. Mr. Jinks prides himself on applying entrepreneurial experience to all elements of the business in a commitment to provide optimized returns to investors and shareholders.
He is active in his community, having served on several non-profit boards and is active in coaching youth sports. He is a graduate of Cal Poly San Luis Obispo where he graduated cum laude with BA in finance and economics. Forrest is a competitive water skier who loves basketball, traveling and spending time with family and friends. He currently resides in Morgan, Utah with his wife Melissa and three children.
Ian Tavelli
Ian joined the Altus team in September 2022. As Director of Lending, Ian Tavelli is tasked with growing Altus into a world-class private money lending platform. Ian's background in banking analytics, cash flow and strategic growth combined with his entrepreneurial spirit and leadership skills provide him with the knowledge and expertise to develop and expand the Altus lending business. Ian is the former President and CFO of Tavelli Company. During his leadership tenure at the family-owned business, Ian interfaced with clients, set up debt collection processes and oversaw all operations for the company.
Prior to running the collection agency with his father, Ian had worked in the credit and banking industry. He served as Assistant Vice President and Loan Officer in charge of business development at North Valley Bank prior to its merger with Tri Counties Bank where he had served as Relationship Manager. Ian earned his B.S. in Global Business Finance from Arizona State University. Ian resides in Santa Rosa, CA with his wife and young children.