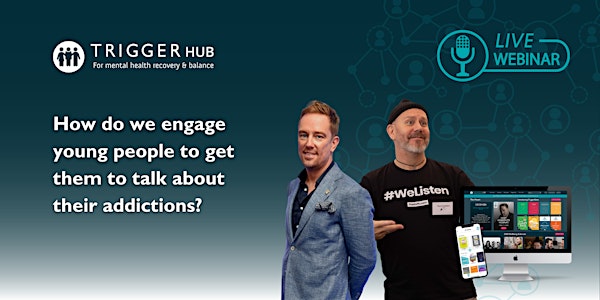 Addiction & Substance Abuse Webinar
Raw and unfiltered insight into addiction, sobriety and how alcohol or substances are used to mask vulnerabilities.
About this event
Join us on Wednesday, 25th January, 12pm - 1pm as Simon Thomas and Paul Chambers give a raw and unfiltered insight into their addictions, sobriety and how they used alcohol or substances to mask their vulnerabilities.
According to published data by the Office of National Statistics, 1 in 5 young adults have taken an illicit drug within the last 12 months. The prevalence of drug use amongst students is leading to increased risk of addiction, mental health problems and physical health problems. Alongside this, there are also concerns about student performance and damage to future job prospects.
How do we engage young people to get them to talk about their addictions?
According to a recent HEPI survey, just 3 in 10 students would reveal their drug use for fear of punishment. This means that many students continue to suffer in silence.
This webinar will provide practical strategies powered by lived experience to engage students and get them talking about their addictions.
Meet the speakers
Simon Thomas
Former Blue Peter and Sky Sports presenter Simon Thomas talks openly about his problems with alcohol and how it affected both his professional life and personal life. Then, in January 2022, Simon decided enough was enough. His relationship with alcohol had to come to an end. A year on, Simon describes sobriety as wonderfully liberating and is sharing his experience to inspire and help others.
Paul Chambers
Paul is a Neurodivergent Mental Health Advocate and Co-Founder of The Creative Mental Health Charity PoetsIN. Paul has managed multiple addictions, personality disorders and mental illnesses. He is now a voice for learning your truth, what makes you unique, wearing your mental health battle medals with pride and your past like a suit of armour.
Paul is candid, brutally truthful, and humorous and hides nothing to strip away the stigma surrounding mental health.
Stuart McQueen
TriggerHub UK Sales & Marketing Manager. Dedicated to giving mental health a voice and enabling people to change their lives. TriggerHub provides the most advanced form of proactive reach for mental health recovery, support and wellbeing for education, workplaces and in the community.