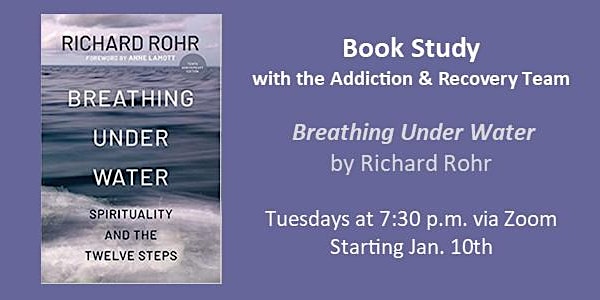 Addiction & Recovery Book Study
BOOK STUDY: Breathing Underwater by Richard Rohr
By Pennsylvania Southeast Conference UCC
Date and time
January 10 · 4:30pm - March 8 · 11:30am PST
About this event
Breathing Underwater by Richard Rohr study starts Tuesday January 10 at 7:30 to 8:30 by zoom.
The number of sessions will be determined by the group
Who should attend: Anyone interested in learning more about spiritual healing for themselves and others.
Breathing Under Water by Richard Rohr is a written within the framework of the 12 steps for those experiencing addiction. But this book is so much more. Rohr goes through the steps weaving biblical passages into the fabric of the steps in such a way that every one of us can benefit from the spiritual journey he takes us on. This book will broaden your understanding of the deeply spiritual healing that takes place in recovery as well as the deeply spiritual healing we all need.
Note: Participants will need to purchase book themselves before the first session.
When you register, you give your permission to use photos of you or your children for purposes of telling the story of the Pennsylvania Southeast Conference on the website or in video, newsletter and social media posts. If you are opposed to having your picture taken and possibly used in this way, please let us know by contacting the PSEC office at: susan@psec.org including your name (and/or names of your children) and your email and phone contact information.
About the organizer
Pennsylvania Southeast Conference is the United Church of Christ (UCC) in southeastern Pennsylvania. We are 159 congregations, open and welcoming to all people, with an extravagant welcome for you! Although our faith is 2,000 years old, our thinking is not. We are a church committed to justice, equality, healing, and peace... a church where 'God is still speaking'! So, no matter who you are, or where you are on life's journey, you are welcome here!