Speakers: Vanessa Holley, LCSW-A, LCAS; Seargent Aprell Copeland and Officer Troy Mills of Norfolk Police Department
About this event
Do you ever feel like you need to be inspired? Have you lost perspective of where you are headed? Or, do you simply want to be around positive people that will keep you on the right path? The Ministry of Counseling Seminar Series, an inspirational, educational, and empowering series of events, was created to ministry to your soul, to invite you into conversations about your character and your purpose, and to sit you at the feet of wisdom shared by some of the most amazing speakers you will meet in life! Don't miss out on the opportunity to develop personally and professional, as well as walk confidently while fulfilling your purpose. Come join this experience with your host, Dr. Carletta N. Artis, at Regent University or virtually via zoom at https://regent.zoom.us/my/Drartis. Register for each seminar with eventbrite.com and reserve your seat today! We look forward to seeing you at all 11 seminars. Blessings on Blessings.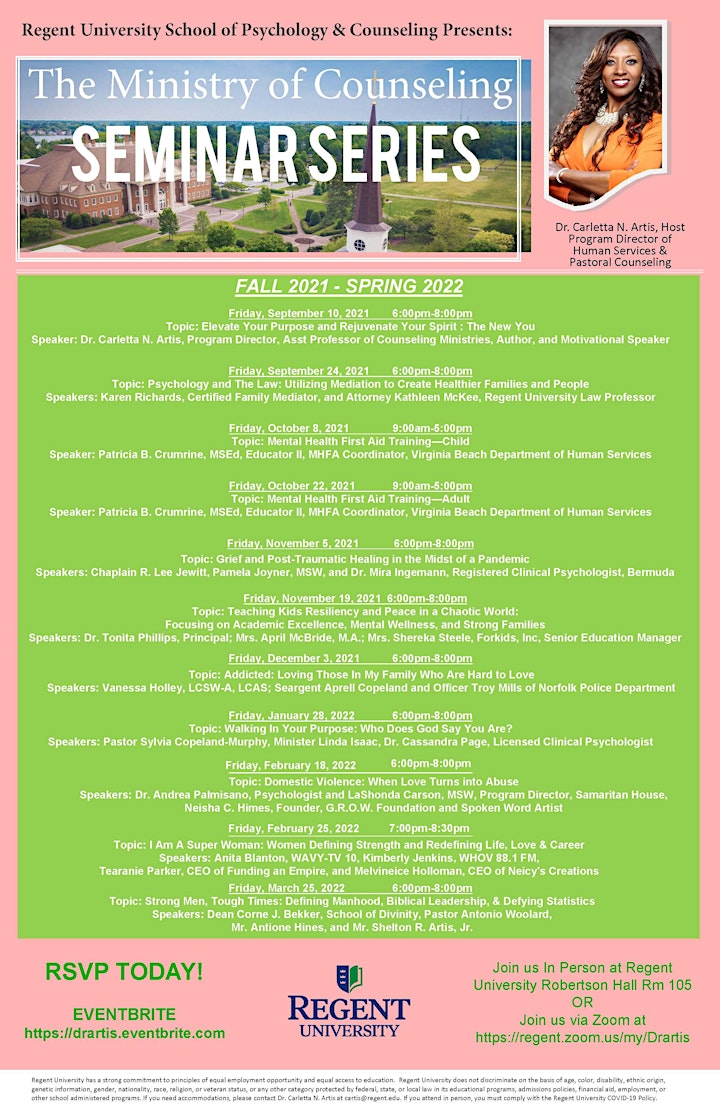 Organizer of Addicted: Loving Those In My Family Who Are Hard to Love
RSVP NOW for The Ministry of Counseling Seminar Series. These seminars are meant to provide enlightenment, inspiration, and empowerment to those seeking to serve in the ministry of helping others. We are called to minister, even to ourselves, because let's face it, life can get hard sometimes trying to be faithful and strong, trying to stay positive when faced with significant medical or financial concerns, support family members in need, grieve the loss of loved ones, balance multiple responsibilities, and so on. In addition, we are called to minister to those who are lost, those who feel alone, unworthy or unloved. They desire peace and there is only ONE that can provide perfect peace. With that said, how do we become a part of this ministry to offer hope and peace? Ministry is not simply about our jobs or titles, it is in our hearts. Therefore, we are all capable of learning how to be a part of the Wonderful Counselor ministry; we can all be involved in the Ministry of Counseling.
This series will introduce you to hear from amazing speakers who walk in their calling and strive to fulfill their purpose daily. I invite you to join us as we bring you topics that may help you to begin your ministry work or encourage you to strengthen your skills to fulfill God purpose in your life. Seminar topics include learning how to walk confidently in our own purpose, domestic violence, addiction, male and female discussions on work/life balance, and more. The events are free and open to the public, but seating (in person and virtual) is limited so RSVP today at https://drartis.eventbrite.com to reserve your seat either at Regent University Robertson Hall Room 105 or Via Zoom at https://regent.zoom.us/my/drartis. Registration is currently open for all seminars so please be sure to view the entire Seminar Series and Register for virtual or in person attendance for each seminar today! These seminars are going to be life changing! Don't miss out on learning more about how you can be involved in the Ministry of Counseling!
Dr. Carletta N. Artis, your Host, is an Assistant Professor and the Program Director of the Human Services and Pastoral Counseling Programs at Regent University. A leader in the fields of psychology & counseling, life coaching, and higher education, Dr. Artis offers insight for personal and professional development. She brings extraordinary empathy and wisdom that reaches beyond the surface to unravel the layers of your life! Dr. Artis is also a motivational speaker, author, media host, Newspaper guest writer, and television host from 2011-2014. She and her husband, an AirForce Veteran, mentors couples and speaks regularly on marriage, blended families and youth. Dr. Artis has worked with the military, Churches, public schools, social service agencies, incarcerated men and women, couples, families, and youth providing information regarding life choices, purpose, leadership, work-life balance, psychological abuse, childhood trauma, maladaptive family dynamics, military life, prisoner reintegration, healthy parenting, co-parenting in blended families, breaking generational cycles, post-traumatic healing, life after loss, and so much more! She considers it her purpose to help others and she is grateful to share her education, expertise, and experience to educate, empower and inspire others.
Regent University
Christian Leadership to Change the World