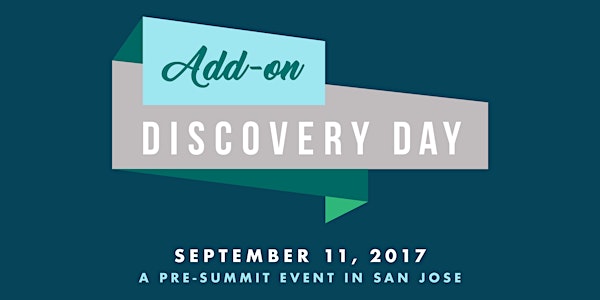 Add-on Discovery Day
When and where
Location
Fairmont San Jose 170 S Market St San Jose, CA 95113
Description
If the 'event full' message is displayed, use the green 'Register' button at right to add yourself to the waiting list. We'll contact you if last-minute cancellation tickets become available.

Extend your Atlassian tools and transform what your teams can do
Discover whole new ways of working with the Atlassian stack by engaging with some of the most powerful add-ons available in the Marketplace.
To warm up for Atlassian Summit 2017 in San Jose, nine leading Marketplace add-on makers are teaming up to offer a deep dive into the ways that add-ons can make teams more effective. You'll gain insight into transformative new ways to extend your teams' Atlassian tools through engaging presentations and one-to-one discussions.
Click here to view a PDF of the Vendor session topics and abstracts.
This first-ever Add-on Discovery Day is free to all who register. Food and beverages will be provided, along with a full day of presentations and discussions with these Marketplace leaders:
Add-on Discovery Day has lots in store that will expand your Atlassian horizons:
Get a broad look at some of the most powerful Atlassian add-ons in one concise keynote
Dive deep into new ways of working in dozens of individual add-on info sessions
Gain valuable insight from one-on-one engagement with add-on experts
Enjoy snacks, lunch, beverages, and networking time throughout the day
Experience a unique, intimate, first ever add-on-focused pre-Summit event
Agenda for the day
View session titles & abstracts.

8:30 - 9:00 Check-in
9:00 - 10:30 Keynote & intro to all vendors
10:30 - 11:00 Break and networking
11:00 - 11:30 Vendor session 1 (9 options)
11.30 - 11:45 Short break
11:45 - 12:15 Vendor session 2 (9 options)
12:15 - 13:15 Lunch and networking
13:15 - 13:45 Vendor session 3 (9 options)
13:45 - 14:00 Short break
14:00 - 14:30 Vendor session 4 (9 options)
14:30 - 14:45 Short break
14:45 - 15:15 Vendor session 5 (9 options)
15:15 - 15:30 Short break
15:30 - 16:00 Vendor session 6 (9 options)
16:00 - 17:00 Drinks and networking
As more information is released, this page will be updated. The Add-on Allstars are looking forward to seeing you for a fun and thought-provoking day in San Jose!