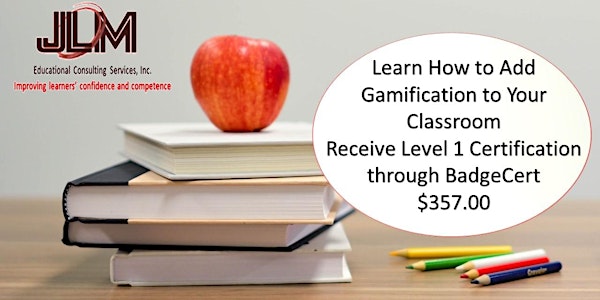 Add Gamification to Your Classroom Receive Certification (2) 3 HR Sessions
Learn how to add gamification to your courses to increase your students' motivation. Workshop has 2 sessions: 10/1 & 10/8 10 am-1 pm EST.
About this event
(2) 3- HR Sessions
Receive training from a certified gamification expert with proven results. Gamification Surveyor (Level 1)
An individual who has earned a Gamification Surveyor Certification (Level 1) has received introductory training and demonstrates the necessary understanding of the fundamentals of gamification as it applies to the 5-stage process of gamifying an adult learning program within an organization. A Gamification Surveyor typically has a basic knowledge of gamification, but has not designed or led projects on their own.
The Gamification Surveyor has completed basic training in the trademarked and proven model for gamification learning design:
Differentiate games from gamification
Write effective business objectives - how will the outcome of your program benefit your organization
Define learner personas and explore gamified instructional approaches that meet those needs
Adopt 3 or more story writing strategies to craft an adventure for your learning program
Identify the main behavior psychology concepts related to gamification
Map at least 6 game mechanics to a player's journey
Draft an outline of a gamified learning program and receive feedback on your concept
Whether you are a new or seasoned learning professional, this certification will help you to quickly learn how to adapt a gamification strategy for your programs. NO CODING SKILLS REQUIRED!
Length of Course: 6 contact hours
Tuition: $357 (USD)
Recertification Accreditations*
SHRM 6 PDCs
ATD CPLP 6 points