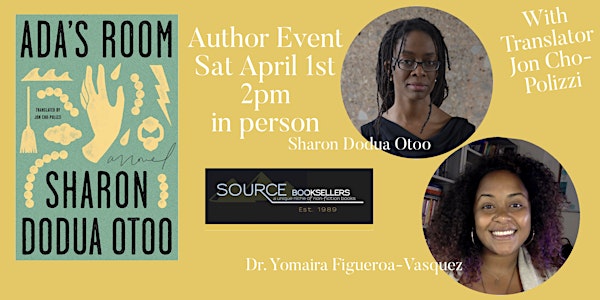 Ada's Room Author Event
Join us to celebrate Ada's Room with author Sharon Dodua Otoo a celebrated voice in German Literature while in Michigan.
Date and time
Saturday, April 1 · 2 - 3pm EDT
Location
Source Booksellers 4240 Cass Avenue #105 Detroit, MI 48201
Refund Policy
Contact the organizer to request a refund.
About this event
Join us to celebrate the newly released novel of author Sharon Dodua Otoo and tranlated by Jon Cho-Polizzi! They both will be in conversation with Dr. Yomaira Figueroa-Vasquez of Michigan State University on the afternoon of April 1st at 2pm.
We are delighted to celebrate this unique book during Sharon's visit to United States. You will find the orbits in this book to be a rich read as well as a page turning novel. The event will include a in person conversation, question & answer and a book signing session.
Detroit Writers and Readers save you spot today with us!
How to celebrate the Ada's Room with us 👇🏽
You can secure a book and seat with a book ticket. In addition, you may want to secure a book ticket by ordering online with us or save your seat with a free ticket. Books will be waiting for pick up at the event. Ada's Room will be released on March 28th, the book will be available for pick up or shipping at that date.
A kaleidoscopic novel spanning generations and continents, that reveals the connections between four women in their struggle for survival.
A woman in 15th century West Africa named Ada buries her child and confronts a Portuguese enslaver. A woman in Victorian England named Ada Lovelace, a mathematical genius and computer programming pioneer, tries to hide her affair with Charles Dickens from her husband. A woman named Ada, imprisoned in a concentration camp at Mittelbau-Dora in 1945, will survive one more day in enforced prostitution. Connected by an unknown but sentient spirit, and a bracelet of fertility beads that each Ada encounters at a pivotal moment in her life, these women share a name and a purpose.
This novel is a feat of imagination and breaks down simplistic notions of history as a straight line; one woman's experience matters to another's 400 years later, on a different continent. In this deeply moving, at times mordantly funny, ultimately hopeful book, there is a connection between all those fighting for love, for family, for justice, for a home.
Author
Sharon Dodua Otoo is the winner of the Ingeborg Bachmann Prize and was the Schroeder Writer-in-Residence at the University of Cambridge in 2022. She is active with the Initiative Schwarze Menschen and is affiliated with the Black queer feminist association ADEFRA. A writer and activist born in London, she lives in Berlin and writes in German. This is her first novel. https://sharonotoo.com/
Translator
Jon Cho-Polizzi is a literary translator and Assistant Professor of German at the University of Michigan focusing on questions of migration, diversity, and trans- and multilingualism in the contemporary German-speaking world. His research traces the intersectional networks of authors, activists, and journalists pushing to reimagine the complex history of Post-Reunification Germany hidden beneath the country's celebrated national memory culture. In addition to his research, he is also an accomplished literary translator, whose work centers the voices of traditionally marginalized communities to highlight the radical diversity of contemporary German life. Recent and upcoming book length publications include: Djinns by Fatma Aydemir (2024), Ada's Room by Sharon Dodua Otoo (2023), De-Integrate: A Jewish Survival Guide for the 21st Century by Max Czollek (2023), and Your Homeland is our Nightmare: An Antifascist Essay Collection co-edited with Fatma Aydemir and Hengameh Yaghoobifarah (2022). He was recently awarded a Spring 2023 Residency at the Literary Colloquium Berlin.
In conversation with
Yomaira Figueroa-Vásquez is an Afro-Puerto Rican writer, teacher, and scholar from Hoboken, NJ. She earned her M.A. and Ph.D. in Comparative Ethnic Studies at the University of California, Berkeley and her B.A. in English, Puerto Rican and Hispanic Caribbean Studies, and Women's and Gender Studies at Rutgers University, New Brunswick. She is Associate Professor of English at Michigan State University and the author of Decolonizing Diasporas: Radical Mappings of Afro-Atlantic Literature (Northwestern, 2020) and the forthcoming The Survival of a People (Duke University Press). Her published work can be found in Hypatia, Decolonization, CENTRO, Small Axe, Frontiers, Hispanofilia, Contemporânea, Post 45 Contemporaries, SX Salon, and other scholarly journals and public forums. She is a founder of the MSU Womxn of Color Initiative, #ProyectoPalabrasPR, the Mentoring Underrepresented Students in English recruitment program (MUSE), and the DH project Electric Marronage. Dr. Figueroa is a 2015-2017 Duke University SITPA Fellow, a 2017-2018 Ford Foundation Postdoctoral Fellow, a 2021-2022 Cornell University Society for the Humanities Fellow and the PI of the Mellon Diaspora Solidarities Lab (www.dslprojects.org).
This debut novel is translated from German where Otoo won the Ingeborg-Bachmann Prize, one of the most highly regarded literary awards for German writers. It made a splash when it was published, was a bestseller in Germany ..... Ada's Room debuts in the United States on March 28th, 2023.
Make sure to save a spot with a ticket because tickets are limited.
Vaccination Requirements: You may be asked to show proof that you are fully vaccinated against COVID-19 or a COVID Free Test Result for entrance to this event. We will accept either a physical vaccination card, digital card, or a photo of the card on your phone. Masks are optional in store. We encourage masks in crowded spaces. We want to make a safe environment for the author and for the community.
Getting to the event: There is a parking lot on the Cass and Canfield that is open for Free parking in the evenings and weekend days and the street parking is available through the kiosk or mobile app Park Detroit until 10pm and free on Sunday. If you are riding Q line transit , we are the canfield stop at canfield and Woodward avenue. If you can please park in the Traffic Jam & Snug parking lot on Canfield. We know it costs but it may be only source of income because the restaurant recently burned in a fire. Show some them some love if you can.
About the organizer
Source Booksellers, an independent bookstore in Detroit's Midtown district, offering a unique niche of non fiction books since 1989. We offer books and unusual sideline items that enhance your life and your lifestyle. More on:  www.sourcebooksellers.com