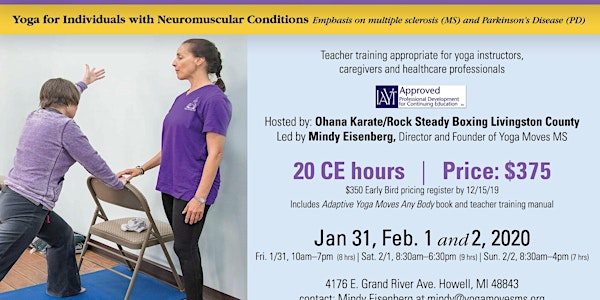 Adaptive Yoga Moves Any Body Teacher Training
This workshop provides the fundamentals of teaching individuals with neuromuscular conditions with emphasis on MS and PD.
When and where
Location
4176 E Grand River Ave 4176 East Grand River Avenue Howell, MI 48843
Refund Policy
Contact the organizer to request a refund.
Eventbrite's fee is nonrefundable.
About this event
1
Adaptive Yoga Moves Any Body
Teacher Training Overview
It is a goal of this Teacher Training program to help instructors gain confidence in their ability to meet the unique needs of their otherwise-abled students, while understanding how neuromuscular conditions impact students' lives, mobility and sensations. It is not uncommon to be anxious about working with students with physical and cognitive challenges. This comprehensive program combines Yoga Moves MS principles as outlined in the book, Adaptive Yoga Moves Any Body (AYMAB), with an overview of neuromuscular conditions, pose adaptations, class design and dynamics, theme components, class administration and additional resources for you to pursue. Participants will become part of a growing and mutually supportive adaptive yoga community of instructors and students.
A. Participant Qualifications
• Yoga Instructors
o Completion of Registered Yoga Teacher credential by Yoga Alliance, RYT 200
o Two years or more of yoga instruction experience suggested
• Neuro-Rehabilitation Professionals such as physical or occupational therapists and nurses
• Certified adaptive fitness program instructors
• Care Partners welcome
B. Suggested Preparation
• MS Society on line class for fitness trainers http://www.nationalmssociety.org/For-Professionals/Clinical-Care/Managing-MS/Intro-to-MS-for-Fitness-Professionals
C. Participant Curriculum
Basics of nervous system and neuromuscular conditions in terms of types, symptoms, CAM options, and adaptations for yoga as may be applied to students with muscular sclerosis, Parkinson's disease, spinal chord injury, arthritis etc.
• Guiding principles of adaptive yoga for MS and neuromuscular conditions
• Application of adaptive yoga techniques to symptoms of neuromuscular conditions, with emphasis on MS
• Application of mindfulness techniques to adaptive yoga curriculum, including how to cope with pain and anxiety
• Essential components to an effective small group adaptive yoga class
• Safe Transfer communication and practice to assist with transfers to and from a chair and yoga mat
• Safe and creative techniques for assisting for students entering and experiencing a pose
D. Competency Goals of an Effective Adaptive Yoga Instructor
• Acceptance of the instructor (or therapist) role without trying to fix the student
• Confidence in teaching and providing assistance with adaptive yoga poses and alignment adjustments
• Attunement to the whole person, rather than to student's condition or disease
• Ability to empower students to contribute to self-care for wellness and healing
• Knowledge of breath and foundational alignment principles and how to apply them to adaptive yoga
• Ability to instruct students with a range of abilities and challenges
• Safe, sensitive and appropriate responses to individual student and class needs
• Mindfulness in the classroom, being in the present moment, while welcoming change in student and class needs
• Ability to look through the lens of an adaptive yoga student
E. Practical Experience
• Creative, empowering and playful environment to explore adapting yoga poses
• Hands-on teaching and assisting practice with peers (and adaptive yoga students)
• Mentorship available (request details)