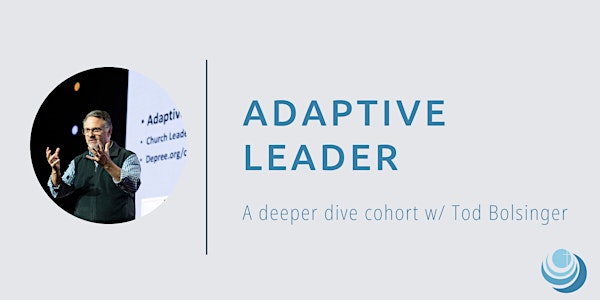 Adaptive Leader, a deeper cohort with Tod Bolsinger - Session 1
A deeper dive cohort to empower you to lead your congregation through change.
About this event
Three full days with Tod, each with a different theme and outcome, will build off the previous session and empower you to identify and work through specific outcomes in your congregation(s). When you sign up for this first session you are signing up for all three.
Session 1. Leading into Uncharted Territory: Adaptive Change Leadership
Outcome: the tools to do a congregational assessment for identifying adaptive challenges.
Date: March 22
Session 2. The Most Important Aspect of Leadership: Surviving the Sabotage with Adaptive Leadership Resilience
Outcome: The Leaders working through a Leadership Rule of Life for developing resilience in the face of adaptive change resistance.
Date: May 24
Session 3. Discipleship for Deep Change: Building the Adaptive Capacity of your Congregation.
Outcome: will end with a long-term plan for refocusing the formation/discipleship work of the church to be centered on preparing disciples to be faithful and missional in a rapidly changing world.
Date: October 4
By attending this 3 full-day sessions event you authorize the Ministerial Department to use half of your continuing education funds if you have available funds.
Agenda
9:00 AM - 12:00 PM
Leading into Uncharted Territory
1:00 PM - 3:00 PM
Adaptive Change Leadership