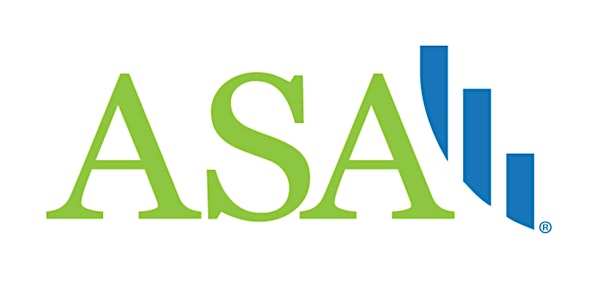 Adaptive Design
Join us for an exciting virtual short course on adaptive designs tailored for adaptive dose finding and confirmatory clinical trials.
Refund Policy
Contact the organizer to request a refund.
Eventbrite's fee is nonrefundable.
About this event
Adaptive Design
American Statistical Association Short Course
Instructors: Frank Bretz, Novartis, and Dong Xi, Gilead Sciences
Location: Online live Zoom event (access link will be provided at a later date - recording will be made available for attendee use only, if unable to make some of the course presentation)
Dates/times: December 1, 8:30 am-12 pm; December 2, 8:15 am-11:30 am (Eastern Standard Time)
Course description: Clinical trials play a critical role in pharmaceutical drug development. New trial designs often depend on historical data, which, however, may not be accurate for the current study due to changes in study populations, patient heterogeneity, or different medical facilities. As a result, the original plan and study design may need to be adjusted or even altered to accommodate new findings and unexpected interim results. Through carefully thought-out and planned adaptation, the right dose can be identified faster, patients can be treated more effectively, and treatment effects evaluated more efficiently.
This short course presented over two mornings will introduce different types of adaptive designs tailored for adaptive dose finding and confirmatory clinical trials. Practical considerations will be illustrated with case studies. Types of adaptive clinical trial designs covered in this course include adaptive dose finding studies using optimal designs to allocate new cohorts of patients based on the accumulated evidence, group sequential designs, blinded and unblinded sample size re-estimation as well as adaptive designs for confirmatory trials with treatment or population selection at interim.
About the instructors: Dr. Frank Bretz is a Distinguished Quantitative Research Scientist at Novartis. He has supported the methodological development in various areas of pharmaceutical statistics, including dose finding, multiple comparisons, estimands, and adaptive designs. Frank is an Adjunct Professor at the Hannover Medical School (Germany) and the Medical University of Vienna (Austria). He was a member of the ICH E9(R1) Expert Working Group on 'Estimands and sensitivity analysis in clinical trials' and currently serves on the ICH E20 Expert Working Group on 'Adaptive clinical trials'. Frank is a Fellow of the American Statistical Association.
Dr. Dong Xi is a Director in the Center for Statistical Excellence at Gilead Sciences. Previously, he was a member in the Advanced Methodology and Data Science group at Novartis. He has supported development and implementation of innovative statistical methodologies in multiple comparisons, dose finding, group sequential designs, estimands and causal inference. He has co-authored four book chapters on multiplicity and many publications in peer-reviewed journals. Dong is an associate editor of Statistics in Biopharmaceutical Research and Contemporary Clinical Trials, and he is a committee member of the International Conference of Multiple Comparison Procedures. His work won the biennial (2019-2020) "Best Paper Award" for manuscripts published in Statistics in Biopharmaceutical Research.