Actions and Detail Panel
Adapted Feldenkrais: Mindful Awareness: Movement for Pain Management
Sat, April 8, 2017, 9:00 AM – 4:30 PM BST
Description
Adapted Feldenkrais Principles (AFP): Mindful Awareness: Novel Movement for Pain Management
WHY?
If you are a healthcare professional you will base your work on a model or framework. If you work in the field of pain management, you will be interested in many aspects of pain science including neuroscience & bio-psycho-social factors. When you introduce your patient to movement you want principles which fit with your thinking, movement which can be adapted to each patient and their presentation.
If you are somebody who lives with chronic persistent or recurrent pain you need to know good science ways to understand your pain so you can have great conversations with your clinicians & confidence in your body.
Format of the Day
1 The course starts with reviewing myths about pain and reframing pain through a lens of modern science.
2 Then we explore some movement science in relation to pain
3.Then we embark on the 6 Adapted Feldenkrais Principles

After this we go experiential and take the science & principles onto the floor lab working alone & in pairs.
In Feldenkrais we use movement to gently & safely explore whole body self use so we can learn to do what we want.
"Moshe Feldenkrais was one of the first Neuroplasticians' (Norman Doige The Brain's Way of Healing 2015). As early as 1949, Feldenkrais wrote that the brain could form new neural pathways to organize the brain to fit with the surroundings. Modern research supports that brain & system activity is neuroplastic and can change and we can learn through our whole life.
Listen to a Sample Lesson Here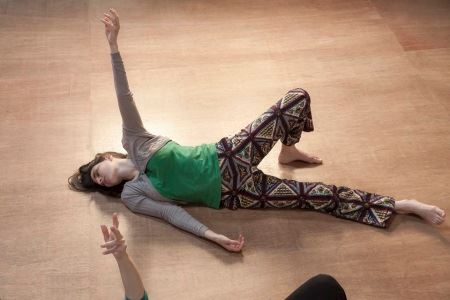 Where?
VENUE: Sulham Village Hall This hall has an excellent floor, is quiet and tucked away. There is NO public transport but it is a beautiful space with parking. Bring some food for lunch. Postcode RG7 4DD
Who are you?
This one day introductory course is open to the general public & practitioners. You are very welcome to come along if you are a clinician and work with people who have persistent chronic & recurrent pain, or you, yourself experience pain. There is a sliding scale of fee charges and an Early Bird booking rate.

What is it?
The course brings into your awareness effective Adapted Feldenkrais Principles which can be mapped across to use with health & wellbeing issues. The principles presented are underpinned by modern science, some science will be introduced on the day, but the aim is make to day enjoyable play & system learning. The course will be mainly practical experiential floorwork and some morning classroom style training in applicable pain & movement science. Practitioners who want to learn more and who are considering using Adapted Feldenkrais in their clinical practice can progress to complete a certification.


A Little Bit More...
If you've not experienced Feldenkrais work before then you may be as surprised as I was when I first came across this work back in 1990. "Moshe Feldenkrais was one of the first Neuroplasticians' Norman Doige The Brain's Way of Healing 2015. As early as 1949, Feldenkrais wrote that the brain could form new neural pathways to organize the brain to fit with the surroundings. New ways of researching brain & system activity studies have confirmed that our system has great neuroplasticity and we can continue to change and learn through our whole life.

It's probably easier to describe what the movement work is not like. No other movement work is presented like Feldenkrais. The atmosphere is a class is gentle with calm, encouraging verbal directions. The mode of class delivery is unique, trainers use their voice tone, word patterns, spacing and encourage exploration and safe novel movement sequences. As a trainer in this work for some 18 years, my job is to assist you to learn new skills and assist you to make subtle change to the wiring in your brain & nervous system. I help you to harness your system's ability to change. Helping you to be more confident, mature, integrated and aware. As you become more organised so does your ability to self manage your pain. There are no contraindications or client group excluded. For 40 years I've worked as a HCPC Registered Physiotherapist with a special interest in pain, neurological & orthopaedic rehabilitation. In my clinic I have many people coming asking for help to reduce their severe strong recent pain and manage ongoing pain. Since 1994 I've been using Feldenkrais Principles in my clinical work and it has changed my practice. In addition as a certified coach, hypno-psychotherapist & Trainer in Neuro-Linguistics my practice integrates psychological processes.
Listen to some Short Lessons..
Since 2008 I've been uploading short Body Sensing & Movement Awareness lessons online. They can all be found at my podcast site. Plus I have 40 minute lessons available for purchase
If this has tickled your interest and you are wanting to try something new, you have pains, you work with people who have pains, then come and join us. If you are not sure or have questions then send me a massage or email and I will give you a call.

What do I Wear and Bring?
During the day you will spend time on the research lab of the floor. Bring mats, pillows, duvets for your own comfort, wear loose comfy stretch trouser & tops clothing and be prepared to get down to the floor. Bring some food for lunch
You are welcome to attend if you experience persistent chronic or recurrent (pcr) pain. Book this place if you dont want notes or a completion certificate for your CPD
You are welcome if you work & fee earn as a movement & bodywork therapists, personal trainers, AHP's and your client base includes individuals with pcr pain. If you book this place you get a CPD certificate, notes and attendance counts towards future courses
Number of course participants maximum of 8
A single raised wide table will be available on the day for one course participant who cannot get down to the floor. This will need to be reserved so please enquire before you book.
NB: On the day you will be asked to confirm that you will not carry out any recording, take photographs, videos, tweet etc. You will be asked to agree to maintain confidentiality and not disclose any personal or private data revealed by any other course participate
The course is run by Jill Wigmore-Welsh MSc HCPC Physiotherapist
Hypno-Psychotherapist, Level 7 Achievement Coach, Trainer in Neuro-Linguistic-Programming
IFF Certified Teacher Feldenkrais Method & Bones-For-Life.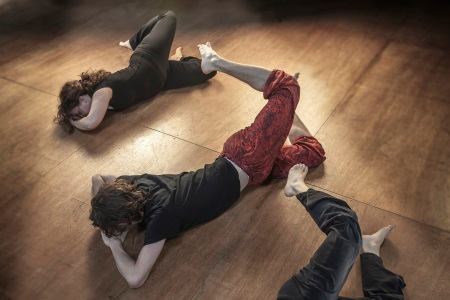 Date and Time
Location
Venue: Sulhamstead & Ufton Nervet Village Hall
Sulhamstead Hill
Reading
RG7 4DD
United Kingdom