Description


ARE YOU READY TO REVOLUTIONIZE YOUR HEALTH?
Join The ADAPT Team, Dr Eric Westman, Dr Ryan Lowery & Dr Lisa Saff Koche for an Educational Event based on the Science of a Low-Carb Keto lifestyle.
Metabolic Disease, Type 2 Diabetes and Obesity, to name a few, are a crippling reality in our world today. Driven by rising obesity, Type 2 diabetes is among the most common of all chronic diseases with just over 29 million people in the US being diabetic. The affected population is growing fast, with nearly 2 million new diagnoses each year. The numbers are staggering and the consequences of uncontrolled blood sugar can be severe.
TOPICS OF DISCUSSION:
The Science of carbohydrate and fat metabolism, insulin resistance, inflammation and chronic metabolic disease and how these can be reversed.
The relationship between unhealthy refined and processed foods and chronic illness.
How to become a FAT burning machine!
How a Keto or Low Carb lifestyle is easy to sustain for a lifetime.
Regain control of your life & your food cravings.e
The benefits of living a low carb lifestyle and what that means.
Success stories share their inspirational stories with you
OUR KEYNOTE SPEAKERS:
Dr. Eric Westman is a practicing clinician, a #1 New York Times best-selling author, and an internationally recognized leader, speaker, educator, and advocate in his field. He is an Associate Professor of Medicine at Duke University Health System and the Director of the Duke Lifestyle Medical Clinic. He is board certified in Internal Medicine and Obesity Medicine, and has a Master's Degree in clinical research, with over 90 peer-reviewed publications to his name. Dr. Westman has dedicated his life to helping patients with various medical conditions such as Type 1 & Type 2 Diabetes, Metabolic Syndrome, Obesity, Hypertension, and many others through diet and lifestyle choices.
Dr.​ Ryan P. Lowery​ is a 2014 national champion baseball player, earned his BS and MS in exercise physiology and exercise and nutrition science from the University of Tampa. Ryan completed his doctorate work at Concordia University in Health and Human Performance with a focus on "The Effects of a Well-Formulated Ketogenic Diet and Exogenous Ketone Supplementation on Various Markers of Health and Body Composition in Healthy and Diseased Populations." Ryan currently serves as the President of the Applied Science and Performance Institute and strategic advisor of Ketogenic.com. Over his career, Ryan has published over 150 papers, abstracts, and book chapters on human performance and sports nutrition and is heavily focused on the impact of ketogenic diets and exogenous ketones on performance, cognitive function, and longevity. Ryan has received the Exercise Science Scholar of the Year Award, NSCA Award for Outstanding Presentation of the year award, and most recently the National AAHPERD Exercise Science Major of the Year Award. Ryan and his business partner Dr. Jacob Wilson recently launched their book The Ketogenic Bible​ which focuses on the science and practical application behind the ketogenic diet, exogenous ketones, and all of their potential applications.
Dr. Lisa Saff Koche is triple boarded in Internal Medicine, Bariatrics, and Anti-Aging and Regenerative medicine.
Ever since her own exposure to the medical field due to childhood leukemia and heart failure from chemo, she has been focused on finding the CAUSE of issues instead of treating the symptoms. She attended Emory Medical School and completed her internal medicine residency at USF in Tampa. She started her practice focusing on preventing cardiovascular diseases and obesity. That experience led to further training in alternative medicine, hormones, and nutrition. She is the medical director and founder of Spectra Wellness Solutions, a comprehensive clinic focusing on all aspects needed for total body healing including the ketogenic diet, hormone replacement therapies, and enhancing mitochondrial function. She has a team of gifted healers that work together to create individualized treatment plans.
Dr. Koche has lectured nationally and has been featured on numerous television and radio segments.
OUR GUEST SPEAKERS:
Danny Vega M.S. is a native of Miami Florida. He received his bachelor's degree in political science from Columbia University in 2004, where he played football and was a three-time Dean's List recipient. Danny earned his Master's of Science in Human Performance from the University of Florida, where he worked with the national championship men's basketball team along with the tennis and golf programs. He then went on to become the Strength & Conditioning coordinator for VCU basketball, helping the Rams to the 2007 conference champions and making it to the second round of the NCAA tournament. As a raw powerlifter, he had meet bests of 640 squat in wraps (610 raw), 400 bench, and 700 deadlift. He has competed in indoor rowing, where he has personal bests of 1:19.9 in the 500 meter, 14.5 in the 100 meter, and 389 meters in the minute for distance. Danny's currently lives in Tampa with his beautiful wife & 2 boys and his newest adventure is in Brazilian jiu-jitsu.
Joshua Perry was born and raised on Cape Cod, MA where he developed his passion for BMX bike riding. He moved to Greenville, NC when he was 17 to pursue a career as a pro-BMX athlete and to ride with the best riders in the world. Josh won his first pro contest as well as the best trick contest, winning him a brand new Harley Davidson motorcycle. Following his big win, Josh made his first X-Games appearance and continued competing in the Dew Action Sports Tour (2007-2013).
In March of 2010, a hard crash on his bike led Josh to the hospital in fear of a head traumatic brain injury (TBI). After almost a year of migraines, bouts of temporary blindness, and being repeatedly told that nothing was wrong, an MRI to rule out a concussion revealed a mass taking up the entirety of the left side of his brain. At the young age of 21, Josh faced mortality.
In April of 2010, Josh underwent surgery to remove a brain tumor taking up the entire left side of his brain. This was a major turning point for him and put him on track to learn about nutrition and take better care of himself.
Suzanne Ryan discovered the ketogenic diet in January 2015, and it completely changed her life. When she started keto, Suzanne weighed 289 pounds, and her energy level and self-esteem were at an all-time low. She felt tired, sick, and frustrated by her inability to stick to a healthy diet. After just one year, she had lost 100 pounds and developed a new mind-set surrounding food. Suzanne is currently down 120 pounds, and she's passionate about helping others find the same success.

Suzanne began talking about her weight-loss journey, offering encouragement, and sharing tips and recipes on her YouTube channel, Keto Karma. She also has a popular blog, Keto Karma, where she posts helpful information, recipes, grocery hauls, and other keto-related tools and advice. Suzanne deeply believes that people should look within themselves and realize that they already have everything they need to change their lives for the better.

Suzanne has appeared on: The Today Show, Live with Kelly & Ryan and The Dr. Oz Show. Her work has also been featured in: First for Women, Women's Health, Closer Weekly, Health Theory, Woman's World, Insider, Reader's Digest, Shape, Harper's Bazaar, Popculture.com and more.

Suzanne lives in the San Francisco Bay Area with her husband, Mick, and her daughter, Olivia.
A SIGNATURE WORKSHOP by Dr. Eric Westman
Dr. Westman will host his signature 1-hour workshop at the end of the presentations. This will include a 20-page diet manual for you to take home, which he will go through in detail during the workshop. This workshop will give you all the tools you need, to get started on your new lifestyle right away!
BOOK PURCHASE & SIGNING:
"GET LIT" - by Dr. Lisa Koche - Overcome Exhaustion, Escape Stress, Harness Limitless Energy, and Ignite Your Inner Athlete" An easy turn key keto approach on how all aspects of the body can be optimized.
About the book: Presented in a unique Q & A format that is fun and easy to read, "Get Lit" will call readers to action and provide a program that anyone can follow. Whether or not medical issues are preventing you from happiness & satisfaction in life, this book will help you unlock the unused potential of your body so that, you too, can get LIT!
"SIMPLY KETO" - Suzanne Ryan - A practical approach to Health & Weight loss, with 100+ Easy Low-Carb recipes.
More about the book: LIMITED COPIES AVAILABLE - Includes helpful advice for starting keto, grocery shopping tips, keto and weight loss FAQ's, 100+ easy recipes, a 30 day meal plan and guidance for living and thriving on a ketogenic lifestyle
ON EVENT DAY:
Registration: Will begin at 8:00 am - Presentations will begin promptly at 9:00 am
Snacks: ADAPT keto snacks, coffee/tea, and refreshments will be available during the breaks.
Lunch: A delicious Keto Friendly lunch of either Thai Coleslaw (non-dairy) or Chicken Caesar Salad (dairy) freshly prepared from scratch from Dine-In Keto (a local ketogenic gourmet meal service). Each serving is prepared as a whole meal
Prizes: You will receive a raffle ticket upon registration. We will be giving away great prizes, see below.
Agenda: Available at registration upon arrival
OUR COMMUNITY LUNCH PARTNER: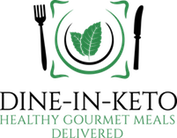 DINE-IN-KETO - A Ketogenic Meal Service that creates and delivers 14 keto meals to their customers that are affordable, delicious, healthy and mostly organic. Dine-In-Keto offers the freshest vegetables they can find from local farmers in the area as well as mostly 100% grass fed meal. They make keto a truly gourmet dining experience - https://dine-inketo.com/
ACCOMODATION - SHERATON TAMPA BRANDON - $165/per night. - 221 Princess Palm Ave, Tampa.
Please use the link below to reserve your room. PLEASE NOTE: We only have 10 rooms reserved at this rate. Should we sell out, the rate will revert back to the regular hotel room rate.
Book your group rate for Adapt Tampa
AWESOME RAFFLE PRIZES DONATED BY:
Amy Berger - "The Alzheimer's Antidote"
Dr. Ken Berry - "Lies My Doctor Told Me"
Caitlin Weeks - "Meditteranean Paleo Cooking"
Adapt Your Life – Assortment of ADAPT products
Dr. Jeff Gerber / Ivor Cummins – "Eat Rich Live Long"
Kristie Sullivan - "Keto Living Day by Day"
Maria/Craig Emmerich – "KETO"
Maria Emmerich - "KETO Comfort Foods"
Kelly Tan Peterson - Bilingual recipe book, "KETO EAST" - Cooking Asian
Heal Clinics - "The Low-Carb Diabetes Solution Cookbook" by Dana Carpenter
Rachel Gregory - 21-Day Ketogenic Diet & Weightloss Challenge
PLEASE NOTE:
We try and stick to event START and END times as best as we can, but sometimes we run late. Please bear this in mind when scheduling your day.
We're SO excited to see you!
THE ADAPT TEAM
xo
---
FAQs
What are my transportation/parking options for getting to and from the event?
There is plenty of parking available at the community center at no additional charge
What can I bring into the event?
You are welcome to bring your own food/drink to the event
How can I contact the organizer with any questions?
Please email: liza@adaptyourlife.com
What's the refund policy?
Tickets are refundable up to 7 days prior to event date.
Do I have to bring my printed ticket to the event?
Not necessary. Once you have booked your ticket, your name will appear on a printout, so we can look you up by name.
Is it ok if the name on my ticket or registration doesn't match the person who attends?
Yes, that would be fine.