Adapt or Die -The Case for a New System of Supply Chain Management

Thursday, April 13, 2017 from 7:00 AM to 9:30 AM (CDT)
Event Details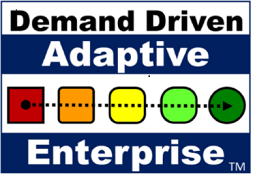 Typical benefits of a Demand Driven Implementation
According to the Harvard Business Review one in three of today's publicly traded companies is expected to be delisted within the next five years? 
Concepts of MRP, ERP and APS, developed in the 1950's, are dominating today's operations and supply chain management
But times have changed – Customer tolerance times are much shorter; product variety and complexity has increased and MRP/APS is dramatically failing in this "New Normal".
Demand Driven Supply Chains typically see improvements like these; 
Improved Customer Service - consistently achieve 97-100%
Lead Time - reductions more than 80%, a market changing impact
Reduction in Inventory - eliminating the "bi-modal" effect and a 40% reduction
The "fourth benefit" - employee satisfaction and reduced variability
DDMRP is a cloud based solution with implementation times in weeks not months             


Our keynote speaker for the event is Carol Ptak, co-founder of the Demand Driven Institute and a world respected authority on Demand Driven MRP. The Demand Driven Institute is dedicated to expanding the understanding of demand driven principles and providing a platform for consistent application through education and events such as this. Carol has co-authored several books with people such as Dr. Eliyahu Goldratt, including her most recent book with Chad Smith which codifies Demand Driven MRP.
Joining Carol for the question and answer session are Erik Bush, CEO Demand Driven Technologies, who has managed that organization since 2011. Previously Erik was a senior executive in IBM's Global Business Services. Also joining Carol is David Mautner CDDP who has implemented multiple company instances of DD Tech applications, including Replenishment+ and is principal consultant at Optimal Solution Technologies. 
A great Country Breakfast will be served. 

Time will be allotted for networking with your Chicago area Manufacturing and Distribution peers.
Download your copy of the Demand Driven Adaptive Enterprise white paper
When & Where

Hyatt Regency Deerfield
Hyatt Regency Deerfield
1750 Lake Cook Road
Deerfield, IL


Thursday, April 13, 2017 from 7:00 AM to 9:30 AM (CDT)
Add to my calendar
Organizer
Demand Driven Technologies was formed with the singular focus of enabling manufacturing and distribution clients to achieve breakthrough performance through the application of Demand Driven tactics and technologies. We are deeply committed to the principle that each and every client will achieve tangible and sustainable gains through the implementation of our solutions.
Optimal Solution Technologies is a Demand Driven supply chain consulting orgainzation.  We deliver improved supply chain performance including reduced inventory investment, reduced leadtimes and increased customer service.  We are affiliated with the Demand Driven Insititue.
The Demand Driven Insititue with affiliates, compliant software alliances and instructors throughout the world we are changing the way businesses plan, operate, think and evolve.  Every business has a choice; continue to operate with rules, metrics and tools developed more than fifty years ago or make a break from convention, recognize the complex supply chains we live in and make a fundamental change in the way it does business...but don't take too long or the choice will be made for you.