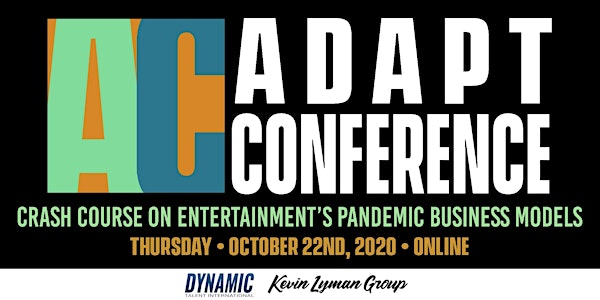 ADAPT Conference
An online crash course on entertainment's pandemic business models.
About this event
In March of 2020, the COVID-19 pandemic brought the entertainment industry, live events, and much of the world's economy to a grinding halt. The entertainment industry faces the reality of being the first to shut down, and the last to reopen major revenue streams. Ideas of "going back to normal" have faded, and businesses are facing tough decisions. Learn from professionals who have found success, collaborate, and ADAPT to our new reality. Join us at the ADAPT Conference.
REGISTRATION NOW OPEN!
CONVERSATIONS, BREAKOUT SESSIONS, + 5 LIVE 90MIN CLASSES
100% ONLINE CONFERENCE
CURATED AND TAUGHT BY ENTERTAINMENT BUSINESS LEADERS
NETWORKING OPPORTUNITIES
VENDOR SHOWCASE
SIGN UP FOR OUR NEWSLETTER TO STAY UP TO DATE AND FOR EXCLUSIVE OFFERS
Have to go and come back? Don't worry! Classes will be available for rewatch after the conference
ADAPT UNEMPLOYMENT SCHOLARSHIP For those who have been laid off, furloughed, or are unemployed. Apply here: https://bit.ly/ADAPTSCHOLARSHIP Applicants who qualify for the scholarship will receive (1) 50% off one time use promo code for (1) Industry Pass and listing on ADAPT's Open To Work directory
Interested in group rates? Contact adaptconference2020@gmail.com
Visit http://www.adapt-conference.com/ for more information!
Connect on Facebook, Instagram, and Twitter
AGENDA:
Setting the stage for success: opening remarks with Kevin Lyman
Kevin Lyman - CEO Kevin Lyman Group and Founder / Creator of the Vans Warped Tour
From Obstacle to Opportunity. A conversation with Kevin Lyman, Laura Hutfless, and Jeremy Holley
Kevin Lyman - CEO Kevin Lyman Group and Founder / Creator of the Vans Warped Tour
Laura Hutfless - Co-Founder of FlyteVu
Jeremy Holley - Co-Founder of FlyteVu
Managing through Rocky Waters: creating new revenue opportunities + decreasing overhead
Randy Nichols - CEO Force Media Management
Deborah Klein - Partner and Music Manager at Primary Wave
Inside the Label's Mind: releasing new music, breaking through the noise, and what they're looking for today
Eric Tobin - EVP Business Development and A&R Hopeless Records
Mike Easterlin - President, Elektra Music Group
Tessa Violet - Artist, T∆G Music
Evolution of the Venue: from March, to now, and the Future
Casey Ianelli - Assistant General Manager Marathon Live
Sean Lupton - Vice President Brand Partnerships Opry Entertainment Group
Socially Distant Live Shows: the comeback of Drive-Ins
Vincenzo Giammanco - CBFProductions CEO & Founder
Michael Silva - Executive Director, VenuWorks of Cedar Rapids L.L.C.
Jeff Fortier - Co-President, Mammoth
Live Streaming In The Age of COVID-19 + Beyond
Joel Madden - CEO veeps. Partner MDDN
Brian Rucker - Twitch, Director of Premium Music Content
Diversify The Stage: Creating Collective Action for Change
Noelle Scaggs - Fitz and the tantrums, Founder of Diversify The Stage
Jerome Crooks - Tour Manager, Founder of Never Famous, Touring Professional Alliance
Breakout Sessions:
Talent Agent's Den
Trevor Swenson - CEO Dynamic Talent International
2020 Venue Management, a Saga
Liza Saturday - Venue Manager, Marathon Music Works
Casey Ianelli - Assistant General Manager, Marathon Live
'Is it time to grow up?' hosted by the Touring Professionals Alliance
Matt Doherty - The Unusual Company and The Touring Professionals Alliance, Jerome Crooks - Tour Manager, Founder of Never Famous, Touring Professional Alliance
Inside Degy World: Creating Events & Concerts in an Avatar World
Ari Nisman - President & CEO of Degy Booking International, Inc. & Degy World LLC.
Pivoting in a Pandemic
Chamie McCurry - CMO, Danny Wimmer Presents
Visual Albums & Release Strategies For The Indie Signed & Independent Artist
Mark Woodbridge - Manager and Founder, 921 Collective
COVID Compliance + Prevention: Best Practices for Keeping Your Crew Safe and Aware
Trey Wilson - Co Owner, 3P America
Jeremy Young - Co Owner, 3P America
DJay Brawner - Co-Founder Tuff Contender,
Advisor Health Education Services, Julianne Brawner RN,MSN - President, Health Education Services
LinkedIn for Job Seekers - How to Build Your Network & Advance Your Career
Sarah Roberts - Head of Military and Veterans Programs, Social Impact - LinkedIn
Radio to the Rescue - How Streaming Radio Supported the Industry and Increased Revenue Streams
Tom Cheney - CEO, idobi Radio
Eddie Barella - COO, Program Director, idobi Radio
Heather Castillo - Marketing Director, Big Noise
Nano Tissera - Founder, Good Boys Inc