Description
This talk is sold out but Long Now members can watch it live on our member site.
*****
The Interval at Long Now welcomes
Adam Steltzner (NASA-JPL, author of The Right Kind of Crazy)

What Curiosity Can Mean for the Future
Check-in begins 6:30pm; talk will start 7:30pm sharp at The Interval at Long Now

Adam's book The Right Kind of Crazy will be on sale and he will sign after the talk.
"Curiosity" is the name of NASA's Mars rover that Adam Steltzner and his team safely delivered to the planet's surface four years ago. Adam's own curiosity is what led him from a late start to become a celebrated engineer at the Jet Propulsion Laboratory. He'll talk about why he believes that in the long view, curiosity is the essential quality for civilization to continue to realize its potential.
Adam Steltzner previously spoke in Long Now's Seminars About Long-term Thinking series in 02013; we are thrilled to have him back to speak at The Interval. He'll discuss his own curious journey and the creative, collaborative teamwork that characterizes his work at the Lab followed by Q&A with Long Now's Stewart Brand.
Adam Steltzner not only does great engineering, he also teaches it and he can lead a great engineering team such as the one that landed Curiosity on Mars. All that embedded in a gaudy personality and astute observer makes for a book that is as delightful as it is instructive.
— Stewart Brand, Long Now Foundation co-founder, on The Right Kind of Crazy

Long Now members can view a free livestream of this event online. Join Long Now for access to live streams of our Seminars and Interval events.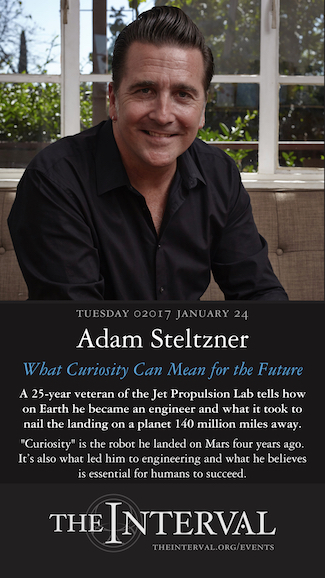 Adam Steltzner is a NASA engineer who led the Entry, Descent and Landing team for the Mars Rover, Curiosity. After a brief career in rock and roll, Adam graduated from Cal Tech and promptly joined the NASA Jet Propulsion Lab where he has been a key participant in some of the most amazing space explorations in the history of humankind.

In addition to his work on Curiosity Adam had a hand in the Galileo, Cassini, and Mars Pathfinder missions as well as the Shuttle-Mir Program. He is the author of The Right Kind of Crazy: A True Story of Teamwork, Leadership, and High-Stakes Innovation. He is a member of the National Academy of Engineering.
Steltzner is a genetic cross between Einstein and Elvis Costello who has mastered the art of managing complex tribes of humans. The Right Kind of Crazy is a fabulous—and ongoing—story.
— Juan Enriquez, coauthor of Evolving Ourselves

Long Now members hear about Interval events first: become a member today