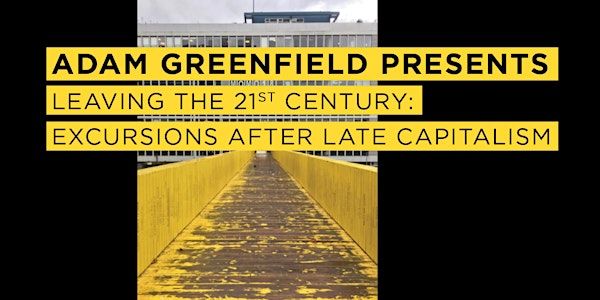 Adam Greenfield - Leaving the Twenty-First Century: Excursions After Late C...
Event Information
Location
DePaul University
14 East Jackson Boulevard
Lower Level Theatre (Basement)
Chicago, Chicago 60604
Description
About the talk -
Our age of kleptocracy by the few and austerity for the many produces a distinct set of urban conditions, replicated worldwide and more recently reproduced as aspirational exclaves in what are euphemistically known as "emerging markets." Oriented primarily toward the needs of mobile capital, bound at every scale by the immaterial tethers of a panoptical network, and implicitly consecrated to the rhythms of a joyless, compulsive consumption, contemporary urbanism is killing us. It is now more urgent than ever that we imagine social and spatial possibilities outside the sway. Join Radical Technologies author Adam Greenfield for this international survey and reminder that another city—and another future—remains possible.
About Adam -
Previously a rock critic, bike messenger and psychological operations specialist in the US Army, Adam Greenfield spent over a decade working in the design and development of networked digital information technologies, as lead information architect for the Tokyo office of internet services consultancy Razorfish, Independent User- Experience Designer and Head of Design Direction for Service and User-Interface Design at Nokia headquarters in Helsinki. Selected in 2013 as Senior Urban Fellow at the LSE Cities centre of the London School of Economics, he has taught in the Urban Design program of the Bartlett, University College London, and in New York University's Interactive Telecommunications Program. His books include Everyware: The Dawning Age of Ubiquitous
Computing, Urban Computing and Its Discontents, Against the Smart City, and the best selling Radical Technologies.
Date and time
Location
DePaul University
14 East Jackson Boulevard
Lower Level Theatre (Basement)
Chicago, Chicago 60604