About this Event
Adam Faucett
"Nothing can prepare you for the sound that comes out of his mouth when he sings—or bellows—his stellar songwriting. It is a soulful power beyond belief." -Paste Magazine
Hailing from Little Rock, Arkansas, and possessing a voice the Onion A.V. Club warns "knocks your brain into the back of your skull," Adam Faucett has drawn comparisons from Tim Buckley to Cat Power to Otis Redding.
Called "one of the greatest, most thoughtful lyricists the state has to offer," (Arkansas Times) Faucett has again pushed the borders of his "part folk, part blues, part elemental rock stomp, part unidentifiable cosmic holler" (Arkansas Democrat-Gazette) with the release of It Took the Shape of a Bird, a record of his most personal, unbodied, and darkly beautiful songs to date.
Faucett began performing solo in 2006 while living in Chicago. Returning to Arkansas in 2007, he recorded his first solo album, The Great Basking Shark, and began touring nationally full-time. 2008's Show Me Magic, Show Me Out followed, and relentless touring soon led to shows with Jason Isbell, Damien Jurado and Lucero. 2011 saw the release of More Like A Temple, which received critical praise at home and abroad, bringing Adam to Europe for the first time.
2014's Blind Water Finds Blind Water (Last Chance Records) was named to American Songwriter's "Top 50 Albums of 2014," and found Adam playing international and national tour support for Chuck Ragan, Austin Lucas, King Buzzo, and most recently, Pallbearer.
Faucett's latest record, It Took the Shape of a Bird (Last Chance Records), was released in fall 2018 and named to Pop Matters "20 Best Americana Albums of 2018." His fifth solo album, it's also his most personal and heaviest. Populated with tragic characters and locales, it delves deep into the spiritual and examines the creation of art, and the artist. Its backdrops are disparate, ranging from rural Arkansas to the dust clouds of deep space. And its moments of lilt are bolder due to its darker turns.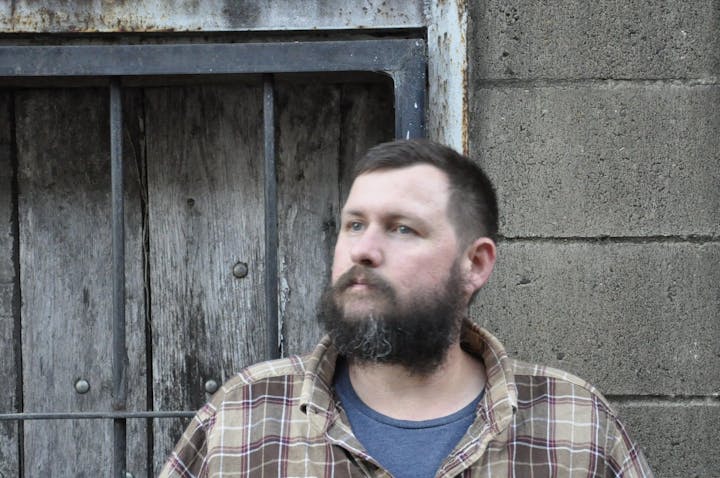 William Blackart
"He hasn't abandoned his punk origins. Jutting out of his stoic, straight-up folk songs are remnants of his musical past. There's an edge to the music: Blackart's gravelly voice, the violent shifts in melody, tempo and tone." – Lincoln Journal-Star
Arkansas native William Blackart plays a lo-fi country brand of folk music. With lyrics described as "poetic and captivating," vocals pegged as "rough and emotive" and guitar work called "hypnotic and spare" (Dakota Discography), his influences range from Townes Van Zandt to Leonard Cohen to The Clash.
With roots in the punk rock bands The Fraggin Monarchists (1998-2005) and Ray Brower's Body (2005-2006), Blackart's musical focus shifted toward the stripped-down acoustic tunes he'd begun exploring, when moving to Chicago, Ill. in 2006. Honing his craft around Chicago's open mic circuit, proper show opportunities soon arose, and the following spring he recorded the solo debut, Left, a ten-track collection of bare-boned and gritty songs.
After a year in Chicago Blackart resettled in Arkansas and began touring in support of Left. He's been on the road steadily since, playing with acts like Richard Buckner, The Legendary Shack Shakers, Joe Jack Talcum (The Dead Milkmen) and Dax Riggs.
Return, the sophomore follow-up to Left, was released September 28, 2018 on vinyl, CD and digital. Produced by fellow Arkie songster Adam Faucett, Return is a thicker album, featuring Faucett on electric guitar and bass, and Chad Conder (Hard Pass) on drums. Lyrically, Return journeys through a land where love and loss co-mingle with ghosts and musings on philosophy and the supernatural.
Performers
Date and Time
Location
Refund Policy