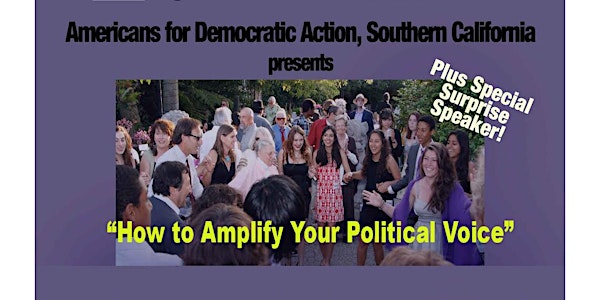 ADA SOCAL Gala Garden Party 2016
When and where
Location
Private Residence Santa Monica, CA
Description
Come to the Americans for Democratic Action of Southern California's Annual Garden Party!
You are invited to the party which will be filled with stimulating speakers, live music, and refreshments.
Political Comedian Rick Overton will appear, as well as Historian Harvey Wasserman, who declared "The only votes that will really count in the 2016 elections may be those manipulated by partisan computer hackers and the corporate rich that hire them" in his latest book The Strip and Flip Selection of 2016: Five Jim Crows and Electronic Election Theft which was published earlier this year. Jackie Goldberg, who is one of the first four gay legislators in California—now featured in the new film POLITICAL ANIMALS, will talk about grass roots political organizing and SPAXTON, the popular indie rock band led by front man and songwriter Cameron Robinson will be playing a rare acoustic set, blending cool guitars and smooth vocals.

The Billionaires are also expected to show up to protest encouraging people be involved to band together to change society. Additional guest speakers are also expected.