Description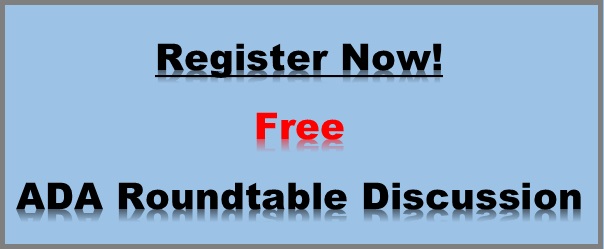 The Americans with Disabilities Act (ADA) is a federal civil rights law enacted in 1990. Under the ADA every public entity is required to develop a comprehensive ADA Transition Plan.
Now, more than ever, it is important to understand all that is required to develop your ADA plan. Title II agencies across the United States are facing an avalanche of private litigation along with Department of Justice (DOJ) reviews.
Over the past years, the DOJ has drastically increased reviews of agencies under the ADA, meticulously examining all programs, services and activities as well as streets and buildings. Today, there is little sign that this will let up anytime soon. As a result, Federal funding is at risk for entities which are not fully compliant under the ADA.
Because this issue is so urgent, Accessology, a national consulting company on access related issues whose president has over 35 years of experience in accessibility, along with Kimley-Horn, one of the country's premier engineering firms, have partnered together to conduct an ADA Roundtable Discussion Event in the your area. Experts who will present at this event have knowledge in ADA, PROWAG, 504 and other state as well as national accessibility standards and requirements. These events, have proven to be extremely productive nationwide.

We invite you, along with your directors, engineers, facilities managers and others to attend this important event.
WHEN: Wednesday April 20, 2016
WHERE: 310 5th Ave on 3rd floor New York, NY 10001 (It's in Midtown, between 31st and 32nd street in the Z Office Suites, take a right out of the elevator.)
TIME: 1:30PM to 3:30PM
An ADA Roundtable brings ADA Coordinators along with all departments within a public entity to the table to learn and to discuss the requirements of a comprehensive ADA Transition Plan.
This 2 hour presentation will be an overall discussion of what an ADA Transition plan is, what needs to be included, how to get started if it hasn't been done before and how to update an older version. The presenters have broken this process into steps to get agencies going in the right direction. The attendees for this class will be municipalities, counties, universities, school districts and other Title II entities.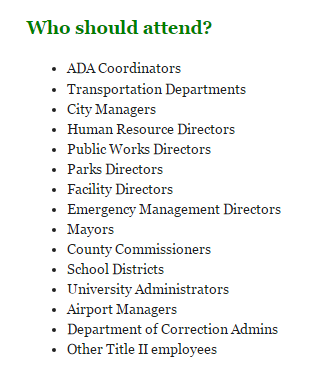 This ADA Roundtable Discussion is FREE.
However, in order to accommodate everyone who would like to attend, we are asking each person who plans on coming to please register in advance. Feel free to share this event with those you feel would benefit from this discussion.
.

If you have any questions about this event, please contact Alicia Hill at 972-434-0068 or by e-mail at ahill@accessology.com.
We hope to see you there!
Thank you,