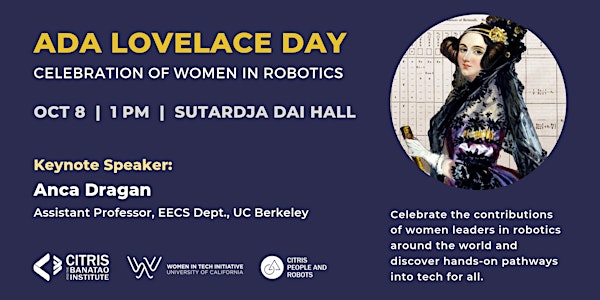 Ada Lovelace Day Celebration of Women in Robotics
Celebrate the contributions of women leaders in robotics and discover hands-on pathways into tech for all.
When and where
Location
UC Berkeley, Sutardja Dai Hall: Banatao Auditorium 2594 Hearst Avenue UC Berkeley Berkeley, CA 94720 United States
About this event
The Women in Tech Initiative, a joint program of CITRIS and the Banatao Institute and Berkeley Engineering, and CITRIS People and Robots (CPAR) are excited to present the "Ada Lovelace Day Celebration of Women in Robotics" on Tuesday, October 8.
Take a deep dive into robotic applications for good and discover how to enter the robotics field with networking, mentoring opportunities, and demos from impressive student groups and supportive community organizations including Women in Robotics/SVR.
The keynote will be delivered by robotics industry leader and UC Berkeley EECS professor Anca Dragan, panels will feature leading founders of robotics startups, and Robohub's Top 25 Women in Robotics list will be released.
Event Agenda:
Welcome
Keynote Speaker + Q&A - Anca Dragan (EECS, UC Berkeley)
Robotics Applications for Good Panel - including Nicole Kernbaum (Seismic), Maria Telleria (Canvas), Jo Balme (Zipline), Christianna Taylor (Gantri) and Katherine Scott (Open Robotics)
Diverse Pathways - Jasmine Lawrence
Gender and Inclusion in Robotics Discussion - including Eric Paulos (CITRIS Invention Lab), Ngoc Mai Nguyen (Optoceutics), Danielle Applestone (Daughters of Rosie), Jillian Ogle (Remo.TV)
Robotics Demo Fair + Networking Reception
Robohub's Top 25 Women in Robotics Announcement
------------
Sign up to receive the latest news, upcoming events, and updates from CITRIS and the Banatao Institute: http://bit.ly/SubscribeCITRIS