Description
Blu Homes & A+D Architecture and Design Museum>Los Angeles Invite You to Join Us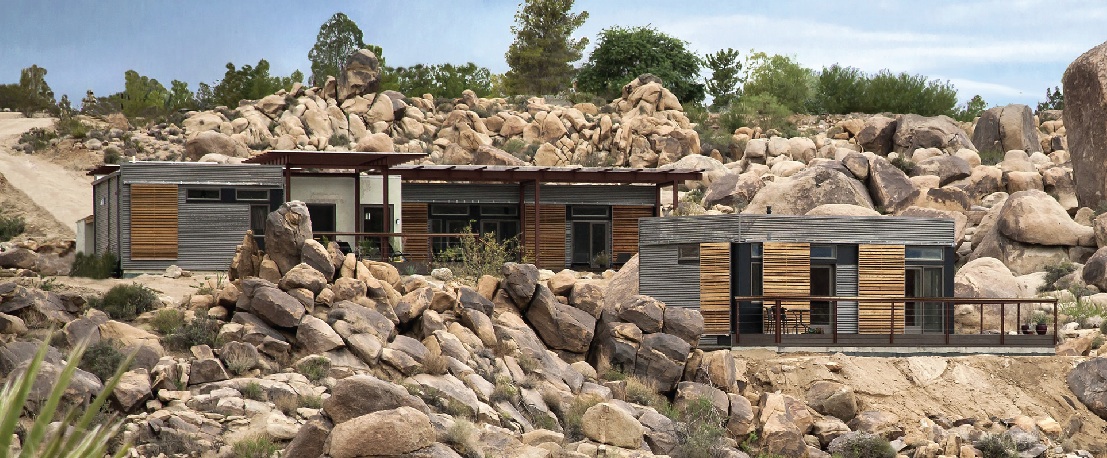 Kickoff Palms Springs Modernism Week with afternoon cocktails and hors d'oeurves at the Joshua Tree home of Tim Disney.
---
The celebration will support A+D Museum and its upcoming exhibition Never Built: Los Angeles. The exhibition is a rare compendium of visionary works that only saw the drawing board by legends such as Frank Lloyd Wright and Frank Gehry. This initiative sets the stage for stunning projects still relevant today and asks the question: "What if Los Angeles?"
The afternoon will be completed with an informal panel discussion at 3:30pm featuring Never Built curators Sam Lubell and Greg Goldin and moderated by Blu Homes' Karl Daubmann, Vice President of Design and Creative Director.
Presale Tickets: $50
Tickets at the Door: $60
Ticket holders - please bring your printed ticket to the event. Please note, parking is not available at the home.

JUST ANNOUNCED: Guests will have the opportunity to enter
to WIN a $750 Gift Certificate to Room & Board
---
Parking + Shuttle Information
Parking is not permitted at the home. Guests please park at the JT Sportman Club to board shuttles for the home. Shuttles will promptly begin leaving for the home at 2:15pm from the address listed below. The final shuttle will leave the home for the JT Sportsman Club at 5:00pm. The shuttle ride is about 7 minutes.
JT Sportman Club
6225 Sunburst Avenue
Joshua Tree, CA 92252


---
About Never Built:Los Angeles
Never Built: Los Angeles explores the "what if" Los Angeles and dares the city to dream big again. Never Built: Los Angeles, an exhibition opening this spring at Los Angeles's A+D Architecture and Design Museum, features a collection of spectacular projects that only saw the drawing board. In words, drawings, models, videos and other media the show looks at visionary works that had the greatest potential to reshape the city.
About Blu Homes
Blu Homes are modern, green, beautiful, state-of-the-art, architect-designed, energy efficient and are personalized by your choice of high-quality finishes. Blu's prefab process makes it possible for you to be enjoying light-filled living spaces in a matter of months all at a fixed and transparent price.
About A+D Museum
A+D Architecture and Design Museum>Los Angeles (A+D Museum) is the only museum in southern California focused exclusively on progressive architecture, design, and urbanism. The mission of A+D Museum is to celebrate and promote an awareness of progressive architecture and design in everyday life through exhibits, educational programs, and public outreach.
Questions: Please call 323.932.9393
---