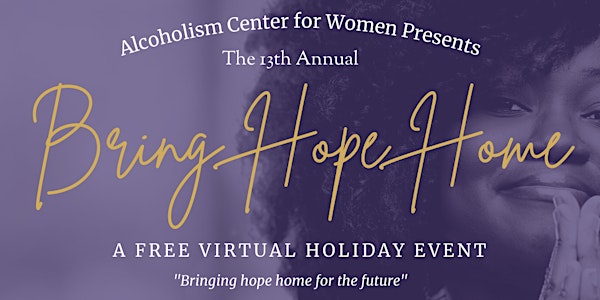 ACW's 13th Annual Bring Hope Home: A Free Virtual Event
An annual event that celebrates the women and alumni of ACW.
About this event
ACW is a non-profit organization established to address the special needs of women affected by alcohol and other drug abuse with a mission to empower women to make new choices for positive futures.
Every year, ACW hosts Bring Hope Home an inspirational event that celebrates the holiday season, and more importantly, the women who graduate and alumni who return to share their personal narratives of how sobriety has positively impacted their lives. This year's 13th Annual Event theme is "Bringing Hope Home for the Future," to honor and inspire hope for current and future women of ACW.
2021 Inspirational Speaker: Sophie Pyne - therapist, recovery coach, sound healer, and reiki practitioner.
As we are still amid the global pandemic, this year's event will take place virtually on Thursday, December 2, 2021, from 6:15 – 8:00 pm PST via Zoom.
Can't make it to the event? There are other ways to help and get involved.
Your time to virtually attend this special event would be much appreciated. However, we understand the hardships of time commitment. In honor of this year's #GivingTuesday (November 30, 2021), if you would like to make a positive difference for the organization, we welcome you to make a donation, purchase a commemorative brick, and/or make a dedication video to memorialize your appreciation and commitment to support ACW's ability to provide life changing critical services and programs.
Please refer to the links below: