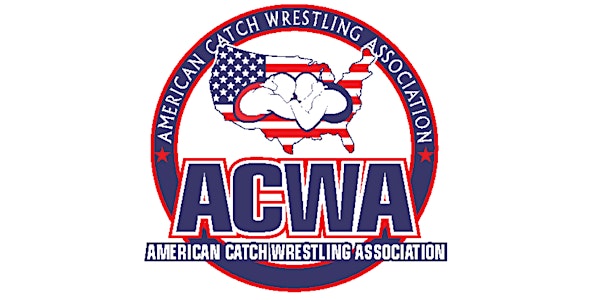 ACWA Catch Wrestling Tournament
ACWA Catch Wrestling Tournament 2/12/23 @ Brea-Olinda HS No-Gi Submission Style Grappling! Double Elimination! Only $40!
When and where
Location
Brea-Olinda High School 789 Wildcat Way Brea, CA 92821
Refund Policy
Contact the organizer to request a refund.
Eventbrite's fee is nonrefundable.
About this event
The American Catch Wrestling Association (Formerly the California Catch Wrestling Association) along with the UWF USA, is holding another Catch Wrestling tournament Sunday, February 12th at Brea-Olinda HS to further develop and continue with creating a modern amateur Catch-as-Catch-can style for wrestling.
Our goal is to bring the sport of Catch Wrestling back to the public eyes and get people back on to the mats as another addition to the existing styles of amateur wrestling (Folkstyle/Freestyle/Greco-Roman).
A simple breakdown of the rules are:
-Win by pin, submission, or points
-A pin is when both wrestler's shoulders are pinned to the mat for a silent 3 count. A pin cannot be counted while in a wrestler's scissor (guard) or if caught in a submission (catch)
-A submission is when a legal hold makes a wrestler give up either verbally or by tapping the mat or opponent 3 times-Points are scored as follows: 2pts takedown, 1pt escape, 2pt reversal, 3pts throw straight to an opponent's back, 4pts High Amplitude (heels over hips).
-Matches are 6 minutes in length-Shoes are allowed-Headgear is allowed
Illegal holds and techniques:
-Heel hooks
-Spiking an opponent on their head or neck
-Scissor takedowns
-Throwing submissions
-No guard pulling or stalling
-We will not be strict on uniform, but no loose fitting gear especially t-shirts. Singlets, Compression/Lycra shorts, Rashguards, Tights/Spats are preferred. Board or grappling styled shorts are allowed.
All levels are welcome, but there are no experience/belt divisions. Entry is $40.
Weigh-ins will be from 9-10am. We intend to get matches up and going shortly after 10am.
Like previously, we will be pooling people together by closest weights and creating divisions from there.
Depending on number of entries we will bracket athletes, or create pools and have them round robin. It is double elimination with consolation brackets for 3rd place.
Come down to get some time in on the mats. You'll find that this system lends itself to a faster paced, more aggressive match which is not just fun to watch, but to compete in as well.
Open to wrestlers 14-up. Wrestlers under 18 will be matched with wrestlers of the same age divisions.
Spectators can purchase a ticket for $5 at the door.