Hear about possible relief from cancer treatment side effects and stress by acupuncture and try acupressure techniques during the event.
About this event
You will also learn how to find and evaluate an acupuncture practitioner. Everyone is welcome to ask questions and share resources.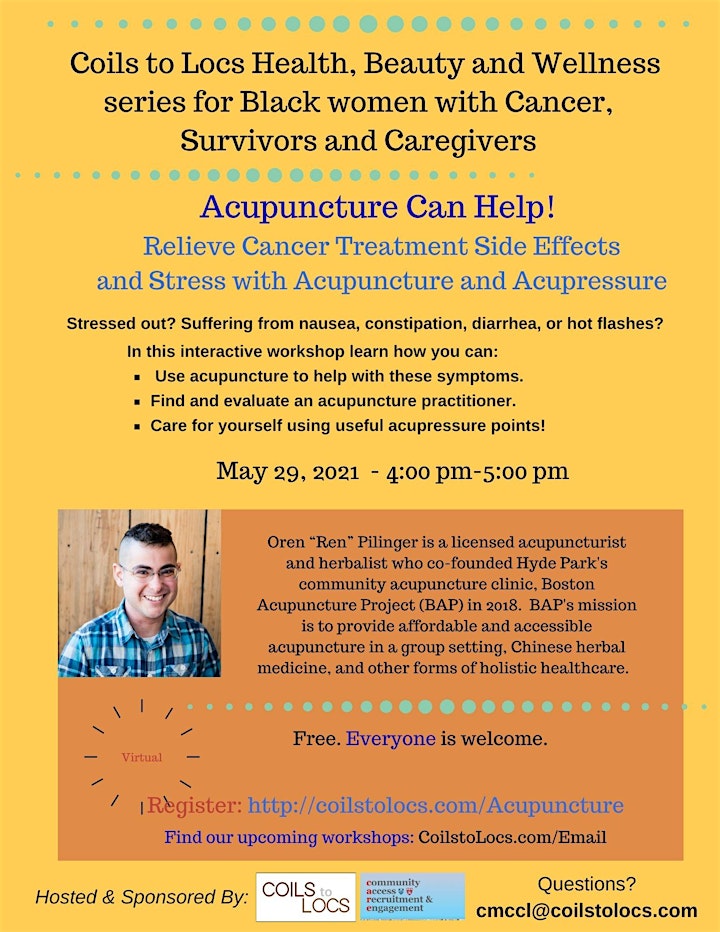 Organizer of Acupuncture can help with Cancer Treatment Side Effects and Stress
Co-Founder and CEO, Dianne Austin is a breast cancer survivor who is passionate about giving back to the community based on her experience with integrative health, wellness and beauty therapies that made the process of going through cancer treatments a little easier.
The Women of Color with Cancer and Survivor's Health, Wellness and Beauty Group developed by Coils to Locs and funded by Dr. Jonathan Jackson, MGH CARE Research Program has offered workshops since 2017 that target communities of color but that is open to all cancer survivors and caregivers.  Workshops focus on alternative and holistic approaches to dealing with cancer both pre, during and post-cancer journey.
We have several exciting health, wellness and beauty workshops planned over the next several months.  Go to http://coilstolocs.com/eventbrite to get early bird notification of future workshops.