Description
Acumen Solutions is proud to present Concert for a Cause!
This inaugural benefit concert will unite music lovers of all kinds to help raise much-needed funds and awareness for 12 local area nonprofits. Located in historic downtown Herndon, Virginia the family-friendly concert will feature four outstanding artists - local and national talent for hours of music, along with food, beverages, and children's activities.
We believe music brings people together and hope you will join us in making a difference for those in need by attending this extraordinary summer event. For every ticket purchased, 100% of the proceeds will go directly towards making an impact in our community. We hope to see you there!
For more information, please visit: www.acumensolutions.com/c4c

Schedule of Events*
3:30 pm - Gates Open
4:00 pm - Children's Entertainment: Rocknoceros
5:15 pm - Local Artist: Gonzo's Nose
6:50 pm - National Artist: High Valley

8:30 pm - Headliner Artist: Cassadee Pope

10:00 pm - Gates Close
*Schedule subject to change.
Please note that donations and ticket sales are not tax-deductible. We appreciate your contributions to support our local nonprofit partners. Same-day ticket sales are available. A portion of all food and beverage sales will benefit our nonprofit partners.
The Concert for a Cause will proceed regardless of weather conditions. In the case of inclement weather, proceeds from ticket sales will still go directly to the nonprofit partners. We regret that we will not be able to provide refunds on donations or ticket sales. Tickets are required for entry.
Ticket holders are permitted to bring chairs, blankets, and small bags. However, tents, large tarps, umbrellas, coolers, and backpacks will not be allowed on premise to allow for the comfortable seating for all guests.
The Town Green is located behind the new Municipal Building at 777 Lynn Street in Historic Downtown Herndon, VA. It is adjacent to the W&OD Hike & Bike trail and the new town library.

Note: The only event entrance is at the Station Street end (connecting with Lynn Street).
Parking: There are a number of parking areas in and around the venue. These are marked on the map below by the blue and white icons. The town of Herndon has also just added 90 additional parking spaces in the "Ashwell" (Subaru) parking lot.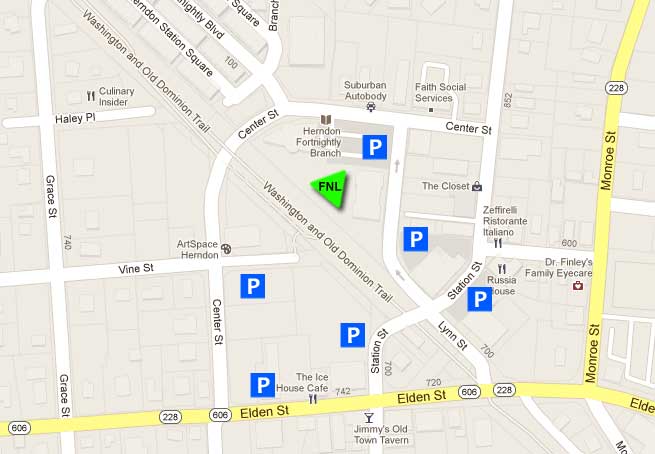 Concert for a Cause Information and Rules
The following information and rules are intended to keep everyone safe, legal and to enjoy the Concert for a Cause. Acumen Solutions, the Town of Herndon, our nonprofit partners, sponsors, and volunteers thank you for your adherence to these rules.
General Rules:
No Coolers

No large backpacks

All bags, purses, chairs, etc will be searched

No pets with the exception of service dogs

No skating, biking, skateboards or hard sports equipment (only Nerf)

No large vinyl or plastic tarps

No beach umbrellas or canopies

Proper ID required

No alcoholic beverages may be brought into the venue

You must be 21 to purchase and consume alcoholic beverages
Thank you for your cooperation. Enjoy the concert!