Description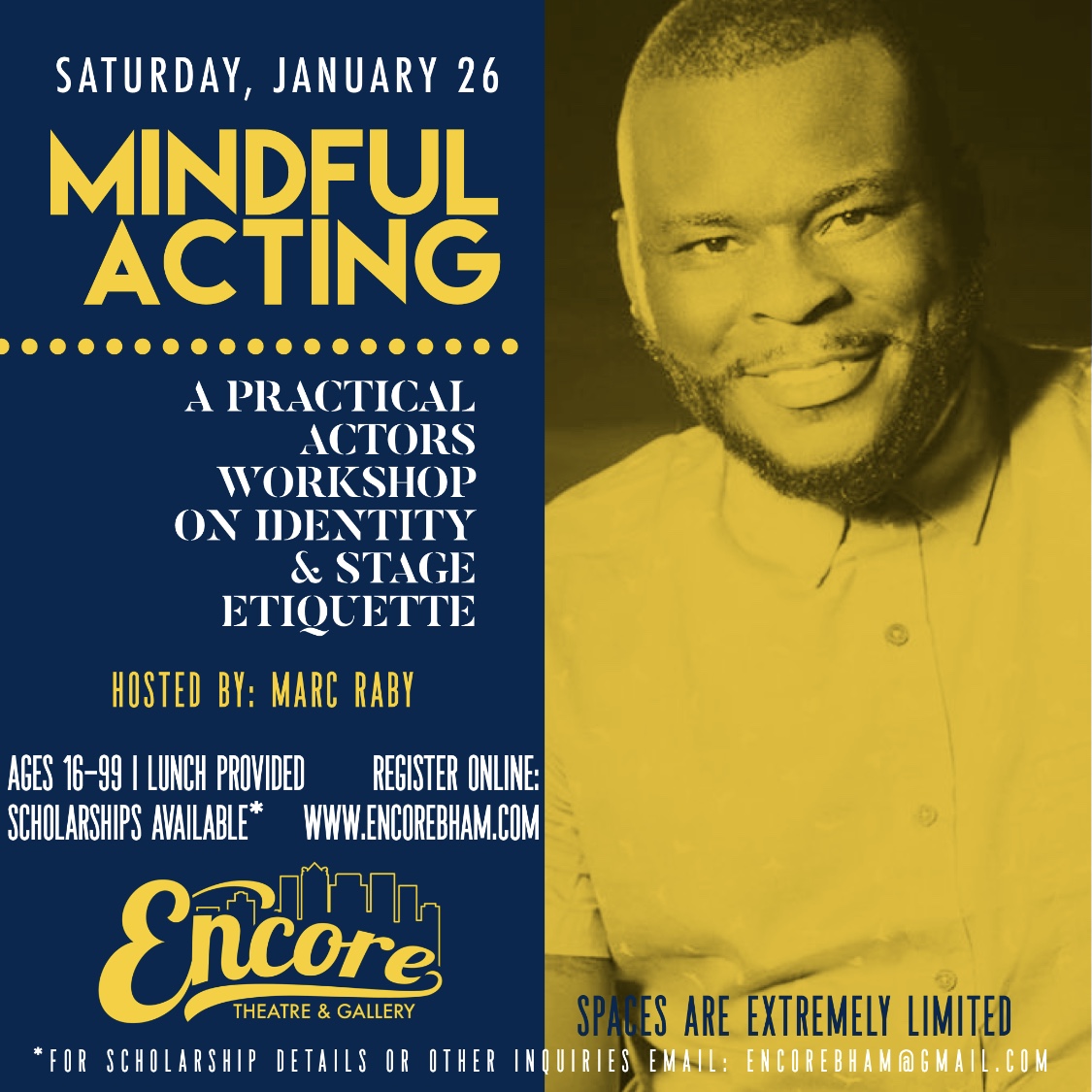 Encore Theatre and Gallery Presents
Mindful Acting:
A Practical Actors Workshop on Actors Identity & Stage Etiquette
January 26 10am-1pm
Spaces are extremely limited.
Admission $85
mind·full /ˈmīn(d)fəl/ : conscious or aware of something. Join celebrated playwright and director Marc Raby for a relevant and exciting actors workshop that will prove to be useful to both the novice and advancing performers.
Clinicians will present participants with insightful information to build upon for character development as well proper etiquette both on stage and in rehearsals. The workshop will culminate with a provided Lunch for attendees.
Ages 16-99
9094 Parkway East Suite Rear Birmingham, AL 35206 [Entrance and Parking in the Rear of Roebuck Shopping Center]
Hosted By: Marc Raby
Marc Raby has entertained and inspired audiences through stories of laughter, love, healing and forgiveness as an actor, writer and director. Raby currently serves as the Creative Director of Encore Theatre and Gallery in Birmingham, Alabama. The southern born playwright has managed to blend his faith and passion for theatre into a phenomenal brand of terrific urban theatre. After an early theatrical experience, Marc developed not only a thirst but a hunger for the arts at an early age. A lifelong student of theater, Raby's training include instruction and/or workshops include NAACP Image Award Nominee Dr. Tommie 'Tonea' Stewart's (A Time to Kill, Momma Flora's Family and the long-running television series "In the Heat of the Night), Eriq La Salle (ER and Coming To America) and Ken Lerner (Happy Days, Days Of Our Lives, This Is Us). An award-winning performer, Marc appeared in the theatrical spin-off from the popular book "The Black Male, Heads or Tales" entitled "Honey, All Men Can't Be Dogs" written by George W. Stewart. Raby also appeared in TJ Hemphill's "Perilous Times". His stage credits also include; Duke Ellington's "Sophisticated Ladies", & the controversial stage play "This is Real!". Marc's film credits include Nippon TV's "Amazing Stories" an internationally aired series as well as numerous local and regional television commercials. Beyond appearing on the screen, he has directed numerous television commercials for various industries.

Raby has been celebrated by various entities for his humanitarian works through his community projects "Books & Bears" as well as receiving the Urban Theatre Award from the Museum of Urban Art in Birmingham, AL. He was also saluted among the 2011 Role Models of the year by the Central Alabama chapter of the Girl Scouts of America. He was most recently featured on the cover of a December edition of the nations largest African American weekly The Birmingham Times. This multi-faceted performer received critical acclaim for his rendition of Weldon J. Irvine's "To Be Young Gifted and Black". Marc is the author of several stage productions including "He's Not The Man I Married", "Love Shouldn't Hurt So Bad","Love On The Edge", "Should A Man Cry?" and "These Three Words" just to name a few. Raby's theatrical productions have included national recording artists such as Shirley Murdock, Chico Debarge, Ann Nesby, Marvin Winans Jr., Tony Terry, Gary Jenkins, Vanessa Bell-Armstrong and many more.

To his credit Raby often pens original music for his productions. After teaming up with famed orchestra conductor and musical conductor Dr. Henry Panion III, Raby alongside Dr. Panion, songwriter Marquita Anthony and Clinton Green produced the work "Send Me Hope," as selection which he debuted in the stage play "To the Woman I Love". The musical ballad would go on to be performed by the Alabama Symphony Orchestra as a part of the Commemoration of the 50th Anniversary of the Birmingham Civil Rights Movement. After experiencing the loss of his mother, Raby penned the inspirational self-help book, Even Me: Maintaining Faith in Uncertain Times. The young playwright is also the author of several books. His children's books are No Josh, No!, Reach High Malik, Daddy's Cooking Dinner and Hey Pretty Girl! He has also penned three novellas: Love and Insecurity, Loving You Ain't Easy and Days Gone By. Raby dedicates his labor in the arts to his beautiful girls Destinee, Ayanna and Zion.