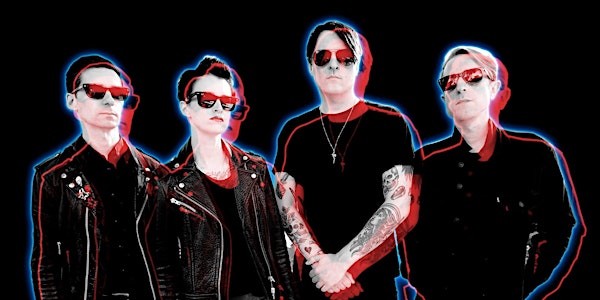 ACTORS, The Bellwether Syndicate, Autumn
Performers
Actors
The Bellwether Syndicate
Location
Part Wolf
501 Cedar Avenue
Minneapolis, MN 55454
Doors at 7PM. 21+. $18 ADV / $20 DOOR
About this event
ACTORS, The Bellwether Syndicate, and Autumn
with Dark Energy's DJ Grant Mayland
ACTORS
Post-punk/darkwave, Vancouver
From Vancouver, Canada, ACTORS electrify with a modern take on post-punk. On debut full-length It Will Come to You, anthemic songs evoke the urgency of early-80's U2 (Boy, October, War) as well as the driving, synth drenched scores that emanated from the era's movie screens. As scene authority Post-Punk.com puts it, the band conjures "cinematic new-wave... that belongs on a Michael Mann soundtrack."
Frontman Jason Corbett's rich vocals command with all the passion of a young Bono and the coolness of Peter Murphy. Songs like "L'appel du Vide," "Slaves," "Face Meets Glass," and "Bury Me" are bangers that glisten via Corbett's production job: slamming beats propel warm layers of synth, guitar, and vocals. Corbett writes, produces, mixes, and masters all ACTORS music at his own Vancouver studio, Jacknife Sound.
Corbett names David Bowie as a fundamental influence - Bowie's sense of confidence and creativity are in full effect on It Will Come to You. But much more than a "retro" act, this is music that stands all on its own, full of life and unforgettable hooks. Perhaps best described as a "post-post-punk" band, ACTORS belongs in the discussion alongside bands of today like The Soft Moon and Cold Cave who are pushing music forward via a deep knowledge of the past.
ACTORS has toured in the USA, Canada, and Europe, and performed at Terminus Festival 2017, 2018 (Calgary), Out From the Shadows Festival 2018 (Portland), and Wave-Gotik-Treffen 2018 (Leipzig), with upcoming festival appearances at Infest 2018 (Manchester), A Murder of Crows 2018 (Brooklyn), and Cold Waves 2018 (NYC, Chicago and Los Angeles).
THE BELLWETHER SYNDICATE
Dark alternative, Chicago
The Bellwether Syndicate are a group of Chicago-based operatives of the sonic avant-garde, intent on speaking truth to power with a sharp tongue.
Fronted by veteran artist William Faith (of Faith and the Muse) and Sarah Rose (aka DJ Scary Lady Sarah), The Bellwether Syndicate are coloring outside of prescribed genre lines, choosing here to push the boundaries of style and substance into something relevant and vital.
AUTUMN
Lush, passionate, melodic, dark pop from Minneapolis
Forming in Minneapolis in 1994, autumn has always sought to create melodies that get the listener to feel something deeply, that have the ability to haunt you in some way after the fact.
Autumn had a busy 2018, releasing their latest full-length album, "chandelier," on Sett Records, on March 23 and touring with darksider legends, Clan of Xymox.
GRANT MAYLAND
Chief Executioner at Dark Energy, a collective of DJs and musicians dedicated to promoting and playing the best in the darker side of dance music, past and present.