Actor Workshop- Getting The Part, Be Prepared for Anything

Monday, February 20, 2012 from 10:00 AM to 1:00 PM (EST)
Event Details

$25 IN ADVANCE, $35 AT DOOR, VALUE $55  YOU SAVE $30.00!
NEW Workshop! After teaching for years at One of the Top 5 Acting Schools as voted by Yahoo, Young Actors Camp and at another school that charges their students a lot of money, Susan decided to bring what she teaches there, directly to you.
Getting the Part-Be Prepared for anything workshop.
How do get the audition.
So you get the audition, now what?
What happens when they "change the deal"?
Who really makes the decisions and why.
IN THIS WORKSHOP:
We will read scenes from feature films I have cast
OR - you may bring in your own scene
You will receive honest, straight forward insight into what your choices are saying about you as an actor and about your professionalism. Is it Show Business after all.

A simple yet proven cold reading technique will be shown and you will get experience in applying it in this workshop. Learn how regardless of what you did to prepare to get to this audition, call back, etc. you will be ready for anything by elements you learn in this THREE HOUR WORKSHOP.
Learn the "Inside Skinny" no one tells you that prevents you from getting booked. Get steps ahead of everyone else by learning what you need to do to book.
How to get to the next level? Tools to know the part and be the part. You will receive a workbook to take home with you from work shopping it.

 

Get answers to all of your acting questions. From your agent/manager perspective, casting director, producers and heads of studios.

 

See what Casting directors see when you submit. We will go online and view an actual casting breakdown, the process, the submissions and who booked.
How do you get out there and get seen? What's appropriate and what's not?
$25 Online PRE SALE PRICE up until midnight the night before (Feb. 19th) YOU SAVE $30.00!!!
$35 at the door 
List Price: $55.00 value
RECENTLY PROJECTS:
A Matthew Mc Conaughey / Butch Walker and the Black Widows Music Video
Pick up shots for a Jim Belushi Film  
Kokoda Trail - a TV show shooting in Austrailia
Dr. Marion - a tv show based with Elder Care Expert Dr. Marion
A Web Series based on a book.
New Media Film Festival Host for June 2012 Red Carpet
I'm slated to cast these two projects once schedule is locked
Film Production: http://www.thecrimegamermovie.com
TV Production: http://www.clubbeverlyhillstvseries.com
A 35mm feature film by a director of a cult classic
 

Bonus!! You can buy the NEWLY REVISED, twice as many pages Ebook version of The resource book (as seen on ABC and CBS) packed full with info on How to Make and Save Money in LA for only $5. above..

www.DidYouKnow.la

 TAKES PLACE AT SHOWBIZ STORE AND CAFE 500 S. SEPULVEDA BLVD. 3RD FL LA CA 90049

ABOUT SUSAN JOHNSTON:
Judge Daytime Emmys 2011
Susan's casting and producing credits include feature films; television shows; music videos and commercials. In addition to running her own casting and production companies, Susan has taught and spoken at USC School of Cinema and Television summer program, Sherwood Oaks College, during Sundance, Marina Del Rey International studies, Van Mar Academy, Los Angeles Film School, Beverly Hills Adult Education and for several years at Young Actors Camp, voted top 5 acting camps in the world by Yahoo.
Susan Johnston has helped over 60 non union actors become SAG during her Casting Director career which started in 2000. Recently interviewed for both Suzanne Lyon, David Heavener's upcoming books as well as "Hollywood Drive-What it Takes to Break In, Hang In and Make it in the Entertainment Industry" by Eve Light Honthaner, "Career Opportunities in the Film Industry; 2nd Edition" by Jan Yager and finally, the successful Italian Industry book, "Ciao Artiste!" by Fioretta Mari and Manuella Metri.
____________________________________________________________________________________
PAST ATTENDEES HAVE SAID:
"I wanted you to know that I really enjoyed your casting seminar last Saturday. It was informative....and entertaining. Thanks especially for showing us what casting directors see when we submit for a role."
-- K. Carlson
"Saturday's event was most informative and I have already put a couple of items I learned into practice and am getting instant results." -- S. Byard
" Thanks so much for giving so much today in the workshop. Even after 30 years in the business, one can learn something! I'm going to put your tips into practice right after the holiday!" -- Kaye
"Once again, you did a fantastic job, and the film is better for your involvement." -- Stephen Israel, Producer 
"You are fantastic Susan! I am so glad you can take on 65 kids for the day.....You know the industry so well and the kids love you!"  Nichelle, CEO Young Actors Camp
"I walked away from Susan's seminar with inside industry info and direct feedback on how to keep my career moving forward....a true value that I'm definitely telling my friends about." -- D.J. Pierce
"Just wanted to say thank you so much for a wonderful experience in your workshop. Your down-to-earthiness is much appreciated as well as your generous knowledge to fellow actors and thank you for inspiring me to be mindful of "doing the right thing." -- Kali Chung
"Thank you for your time tonight. Your class was both informative and engaging. I really appreciate your hands-on approach to learning, as well as providing the opportunity to cold read in front of producer".
-- Bri Jones
"Your expertise is soooooooo valuable" -- Joan Lucas (actress, Dreams Awake, Singing In The Rain)
"I thank you for taking the time to speak to us and share with us the many ways to approach a casting session and book the jobs. I feel a lot more confident than I did before your seminar. I love the fact that you speak the truth and don't hold back and I hope I get the opportunity to work with you and learn from you in the near future. Thank you again for all the information that you provided." -- Bibi Amos
RSVP today at seating is limited. Thanks.
Disclaimer: This is a workshop only, not an audition. By taking this class it has nothing to do with audition for work.
When & Where

The Network Studio
11967 Ventura Blvd.
Studio City, CA 91604


Monday, February 20, 2012 from 10:00 AM to 1:00 PM (EST)
Add to my calendar
Organizer
Susan Johnston Casting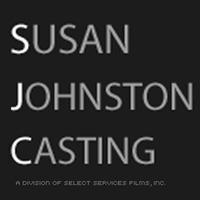 to advance actors in thier career
Actor Workshop- Getting The Part, Be Prepared for Anything