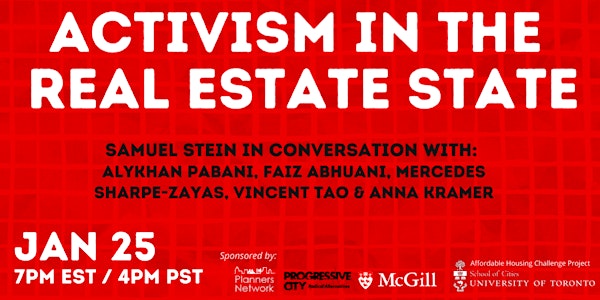 Activism in the Real Estate State
A panel discussion on tenant activism and struggles for housing justice in a time of growing housing precarity and evictions.
About this event
The event will be streamed to the following Youtube link for those who were not able to register: https://youtu.be/XK-d6HEcIek
La version française suit.
Writing in Capital City, Samuel Stein outlined the challenges for urban planning in a time when tenant activism is one of the few counterweights aligned against powerful interests in real estate as a financialized investment.
Drawing from the work of housing activists from Montreal, Toronto and Vancouver, this discussion will reflect on strategies and struggles for housing justice in a time of growing housing precarity and evictions. Co-sponsored by Planners Network, the McGill School of Urban Planning, Progressive City Radical Alternatives magazine, the University of Toronto's Affordable Housing Challenge Project and the Community-based Action Research (CBAR) Network in Parc-Extension.
Monday January 25, 2021
7pm EST/4pm PST
Panelists:
Samuel Stein is a policy analyst and a writer living and working in New York City. His work focuses on the politics of urban planning, with an emphasis on housing, labor, real estate, and gentrification in New York City. In 2019, Verso published his first book, Capital City: Gentrification and the Real Estate State. He is a member of the steering committee for the Planners Network, the organization of progressive planning.
Alykhan Pabani has organized with rent strikes over the past several years in the Parkdale neighbourhood of Toronto and is currently part of the Encampment Support Network, and Mutual Aid Parkdale! He's also working as a Tenant Organizer and Community-Based Researcher with the Parkdale Neighbourhood Land Trust researching the financialization of housing and alternative forms of tenure that can be won.
Faiz Abhuani is a licensed real estate broker and Brick by Brick's prima donna. His vision is to nurture creative energy in the diverse communities that inspire him. Faiz shares his passion for community with his clients by encouraging them to follow their instinct while protecting their interests. Having studied development at McGill and real estate at Concordia, followed by 15 years of experience in the community sector, Faiz is able to appreciate both the challenges and opportunities for decommodifying space and making it about people and their communities.
Mercedes Sharpe-Zayas is a Planning Coordinator for the Parkdale People's Economy, part of a group of community-based initiatives with PARC that includes the Parkdale Neighborhood Land Trust. She works to build social economies, food security and housing justice in a rapidly gentrifying Toronto neighborhood.
Vincent Tao is a housing activist, labor union organizer, and educator based in Vancouver. Tao is a Steering Committee member of the Vancouver Tenants Union and works as a community organizer for the Vancouver Area Network of Drug Users (VANDU). He was previously on contract as a staff organizer at the Teaching Support Staff Union, where helped coordinate a successful campaign to unionize 1,500 research assistants at Simon Fraser University.
Discussant: Anna Kramer, McGill School of Urban Planning
_____
Une table ronde sur le militantisme des locataires et les luttes pour la justice en matière de logement à une époque de précarité croissante du logement et d'expulsions.
À propos de cet événement
Samuel Stein décrit dans Capital City les défis de l'urbanisme à une époque où le militantisme des locataires est l'un des rares contrepoids alignés contre de puissants intérêts dans l'immobilier en tant qu'investissement financiarisé.S'inspirant du travail des militants du logement de Montréal, Toronto et Vancouver, cette discussion portera sur les stratégies et les luttes pour la justice en matière de logement à une époque marquée d'expulsions et de précarité croissante du logement.
Coparrainé par Planner's Network, l'École d'urbanisme de McGill, le Progressive City: Radical Alternatives magazine en ligne, le projet Affordable Housing Challenge de l'Université de Toronto, et la Recherche-Action Communautaire (CBAR) dans Parc-Extension.
Participants:
Samuel Stein est un analyste politique et un écrivain vivant et travaillant à New York. Son travail se concentre sur la politique de l'urbanisme, avec un accent sur le logement, le travail, l'immobilier et la gentrification à New York. En 2019, Verso a publié son premier livre, Capital City: Gentrification and the Real Estate State. Il est membre du comité directeur du Planners Network, l'organisation de l'urbanisme progressive.
Alykhan Pabani a organisé des grèves de loyer au cours des dernières années dans le quartier Parkdale de Toronto et fait actuellement partie du Encampment Support Network et de Mutual Aid Parkdale! Il travaille également en tant qu'organisateur de locataires et chercheur communautaire avec le Parkdale Neighbourhood Land Trust, qui étudie la financiarisation du logement et les formes alternatives d'occupation qui peuvent être atteint.
Faiz Abhuani est un courtier immobilier agréé et la prima donna de Brick by Brick. Sa vision est de nourrir l'énergie créative dans les diverses communautés qui l'inspirent. Faiz partage sa passion de la communauté avec ses clients en les encourageant à suivre leur instinct tout en protégeant leurs intérêts. Ayant étudié le développement à McGill et l'immobilier à Concordia, suivis de 15 ans d'expérience dans le secteur communautaire, Faiz est en mesure d'apprécier à la fois les défis et les opportunités qui se présentent pour décommercialiser l'espace et d'en faire la personne et sa communauté.
Mercedes Sharpe-Zayas est coordonnatrice de la planification pour l'économie populaire de Parkdale, qui fait partie d'un groupe d'initiatives communautaires avec PARC qui comprend le Parkdale Neighbourhood Land Trust. Elle travaille à bâtir des économies sociales, la sécurité alimentaire et la justice en matière de logement dans un quartier de Toronto qui se gentrifie rapidement.
Vincent Tao est un activiste du logement, un organisateur syndical et un éducateur basé à Vancouver. Tao est membre du comité directeur du Vancouver Tenants Union et travaille comme organisateur communautaire pour le Vancouver Area Network of Drug Users (VANDU). Il était auparavant sous contrat en tant qu'organisateur du Syndicat du personnel de soutien à l'enseignement, où il a aidé à coordonner une campagne réussie pour syndiquer 1 500 assistants de recherche à l'Université Simon Fraser.
Discutante: Anna Kramer, École d'urbanisme de McGill