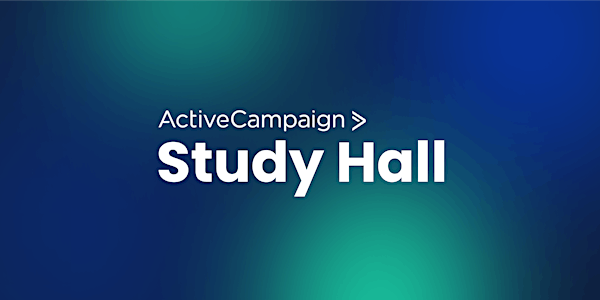 ActiveCampaign Study Hall | Chicago
Become a Marketing Automation Expert Join us for an ActiveCampaign Study Hall Half Day In-Person Workshop in Chicago, IL
When and where
Location
ActiveCampaign HQ 1 North Dearborn Street Suite 500 Chicago, IL 60602
Refund Policy
Contact the organizer to request a refund.
About this event
Join ActiveCampaign for Study Hall: a LIVE, in-person workshop-style event where you'll learn the principles and best practices that go into launching personalized marketing campaigns in the ActiveCampaign platform that grab attention and grow sales.
This half-day workshop includes face-to-face instruction and learning materials from in-house ActiveCampaign experts on Email Marketing, Marketing Automation, Contact Management, Personalization, and more.
After attending Study Hall, you'll walk away with the skills to set up and run an effective sales or marketing automation plan, knowledge of how to use ActiveCampaign to execute your plan, plus a few extra goodies to set you up for 2023. You'll also network with other local ActiveCampaign users from your area.
*Light Breakfast and Lunch Included
Reserve your spot and grab a ticket today!
What you'll get
Over 5 hours with a marketing automation expert
New ways to build personalized customer experiences at scale with automation
Ways to manage and organize all your contact data
5+ automation recipes to save you time
Best practices on how to organize and track your sales process with a CRM
Who should attend?
If you can answer yes to any of these, you should come:
New to ActiveCampaign, or want to understand the ActiveCampaign features that will support your business goals?
Wondering how to collect data from your contacts to provide meaningful customer journeys?
Considering what kinds of communications you want to send out as a business owner?
Thinking about how to build a funnel to track your progress?
An advanced ActiveCampaign user who wants to network with local ActiveCampaign users?
How we'll spend our time
8:00a - 8:30a | Breakfast
8:30a - 9:00a | Mastering the customer experience
9:00a - 9:30a | Managing your contacts with ease
9:45a - 11:15a | Saving time with automations
11:30a - 12:00p | Tracking your processes with a CRM
12:00p - 1:00p | Lunch & Q&A with the team
Technical needs
Your laptop and charger
An ActiveCampaign account (or free trial)