Sales Have Ended
Registrations are closed
Tickets for this event are now sold out. Additional tickets for guided tours are available at: https://www.eventbrite.com/e/active-replicas-xr-career-and-opportunity-fair-additional-guided-tours-tickets-405408356307
Discover Jobs, Internships, Grants, Scholarships in Emerging Technology
About this event
***We have added additional tour sessions at this link: https://www.eventbrite.com/e/active-replicas-xr-career-and-opportunity-fair-additional-guided-tours-tickets-405408356307
The demand for talent in emerging technology has never been higher. That's why we are thrilled to announce Active Replica's inaugural XR Career and Opportunity Fair. This event will bring together untapped talent with an ecosystem of industry leaders and recruiters to address the ever-growing needs of the emerging technology sector.
WHAT IS IT?
This interactive and immersive two-day event will be hosted across a dozen virtual worlds.
From their home in our Constellation network, organizations will showcase the work they do and the opportunities to a buzzing audience of immersive technology professionals.
Attendees will be able to join this web-based event with a single click! No app download or VR headset will be required to participate.
WHY ATTEND?
Organizations will have access to a diverse cohort of trained industry professionals, as well as students and alumni from a wide range of immersive technology programs.
Opportunity Seekers will have the chance to speak directly with hiring managers at leading British Columbian technology organizations. You'll get the lead on jobs, internships, a wide range of grants and scholarships, and that all-coveted foot in the door to this exploding industry.
Whether you're a recent graduate, more established in your career, or have a project in mind and want to start building a team, this is your chance to connect with emerging technology professionals while experiencing first-hand how the industry hires today.
Thursday, Aug. 25 tickets include a facilitated group tour.
Friday, Aug. 26 tickets are general admission.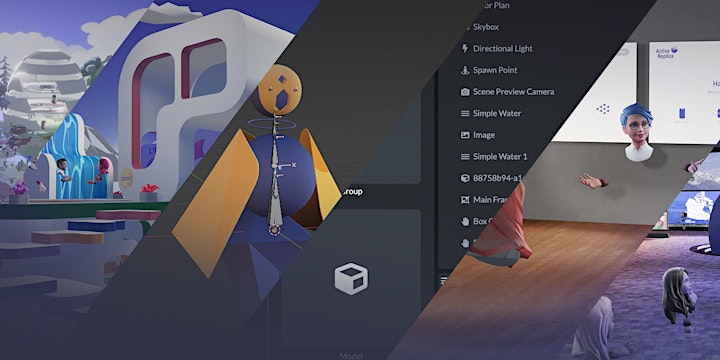 JOINING THE EVENT
Once you register, you will receive a URL to access the event. Our platform is built on top of Mozilla Hubs and can be accessed on nearly any internet connected device. If you are joining on a laptop or desktop computer, we recommend joining using Google Chrome. If you are joining on a VR headset, you can access the event on either Oculus Browser or SteamVR.
NAVIGATION BASICS
FOR LAPTOP/DESKTOP: To move through the space, use the WASD keys while dragging your mouse across the screen to look around. You can use the Q & E keys to rotate left or right. To communicate, press M or the microphone icon and you will be unmuted.
FOR HEADSET: To move through the space, use the left joystick while moving your head to look around. You can use the right joystick to rotate left or right. To communicate, look upwards until you see the microphone icon and select it to unmute.
TROUBLESHOOTING
If you are having any connection, navigation, or microphone issues, visit our documentation page to get help: https://www.activereplica.com/documentation/en