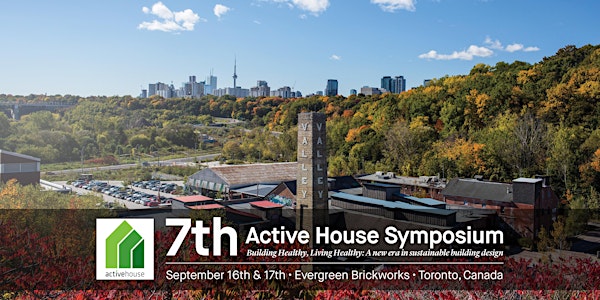 Active House Symposium 2019 - Toronto, Canada
When and where
Location
Evergreen Brick Works 550 Bayview Avenue Toronto, ON M4W 3X8 Canada
Description
We are happy to announce that the 7th Active House Symposium will be held in Toronto, Canada on September 16th and 17th at Evergreen Brick Works. There will be two full days of exciting eye opening conversations, presentations, education, and networking.
Up to 10 hours of Continuing Education credits can be earned and will be available for Symposium attendees. Certificates will be issued after the event.
Our dinner reception will be held at Windsor Arms Hotel on September 16th from 6:30 - 12:00.
After a day of learning, kick up your feet, enjoy a drink or two and mingle amongst friends and colleages.
This is the first time that this international event has come to North America and with it comes inspiration, education and networking with building industry professionals from Toronto and all around the world. As we reach the pinnacle of energy efficiency, come see what's next in high performance buildings as we explore people centric design.
The Active House Alliance is an international non-profit association. The ambition for the Alliance is to create a viable, independent and international influential alliance, which supports the vision of buildings that create healthier and more comfortable lives for their residents without impacting negatively on the climate and environment – thus moving us towards a cleaner, healthier and safer world.
Our wish that Active House becomes the future principal for new buildings and renovation.
Click here for more information on Active House.
Click here for more information on the Active House Symposium.