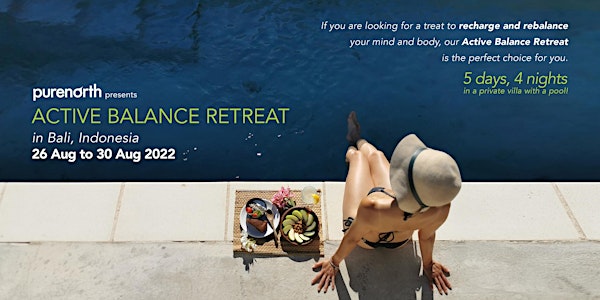 Location
Villa Rumah Kita. Carangsari.
Jl. Tukad Ayung XIII, Br. Beng, Desa Carangsari
Petang, Petang 80353
Indonesia
Refund policy
Contact the organizer to request a refund.
Eventbrite's fee is nonrefundable.
An all inclusive wellness retreat to slowdown, have fun, relax and rebalance your mental and physical well being, in the midst of nature.
About this event
ACTIVE BALANCE RETREAT
****REGISTRATION ENDS ON 25 JULY 2022. ONLY 10 PLACES !!!!***
The Experience:
We know what it's like to lead a busy lifestyle and to be 'switched on' 24/7 means your own wellbeing takes a back seat. We understand the true value of slowing down and we know how transformational a Bali wellness retreat is for a one's vitality, physical health and mental wellbeing.
Retreat to the peaceful villages of Bali to be nurtured by nature, rest, recharge, explore, reconnect and have fun.
What's included:
- all meals included, with a good balance of local cuisine and fresh organic produce.
- 2 massages or wellness treatment of 60 mins per pax (option to book additional sessions at extra costs)
- Daily workshops touching on different expects of body and mind
- qualified physical and nutritional coaches
- Cycling and walks amongst incredible nature trails & expansive rice paddy fields
- Options for other activities like white water rafting and swing
- Private transport included throughout the retreat, including the airport transfers from Denpasar Airport
Where you will stay:
- a 5 bedroom cosy and authentique villa with a pool, located in Carangsari, amongst the lush and expansive rice padi fields. You'll get a true taste of the untouched Bali.
- 2 pax to a large room with ensuite bathroom. One large double bed.
- min 4, max 10 participants
- Shared butler/butlers
Price of retreat per pax:
Early Bird Individuals - SGD 980
Double wellness - SGD 1960 (SGD 980 per person for sign up in pairs)
Individuals - SGD 1189
Adults only
****REGISTRATION ENDS ON 25 JULY 2022. ONLY 10 PLACE !!!!***
Payment and Refund Policies:
Payment to be made via internet Bank transfer or via PayNow (to 94577641), please email coachwendysg@gmail.com for payment details.
Please not that there will be no refund for cancellations 30 days before the start of the event, meaning the latest will be 26 July 2022. There will be a full refund with SGD50 cancellation fee if you notify us before the 26 July notice. In the case that we only meet the minimum requirement of 4 participants, there will be not except any cancellations to be fair to the other participants. We thank you for your understanding.
Also, refunds will be credited via internet bank transfers in SGD, minus the fees paid to Eventbrite or any differences due to exchange rate.