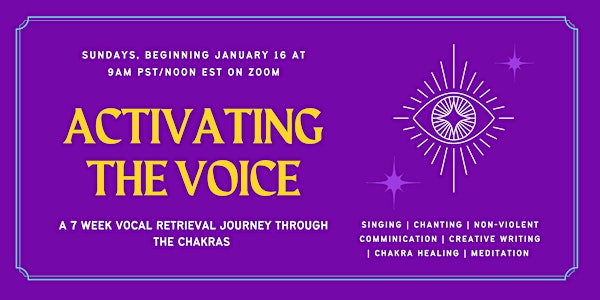 Activating the Voice: A 7 Week Vocal Embodiment Journey through the Chakras
The voice is our center for truth , authenticity & creative expression. This course is a path to experiencing the full power of your voice.
Refund Policy
Contact the organizer to request a refund.
Eventbrite's fee is nonrefundable.
About this event
"You own everything that happened to you. Tell your stories." - Anne Lamott
On January 16th, we will open a 7-week portal into discovering, excavating, and healing the parts of our voice that have been kept silent and are yearning to be heard.
Activating the Voice is a shamanic journey that invites empowering the voice and working through fear around self-expression through tapping into the joy of singing, chanting, and learning new techniques for brave and peaceful communication.
When you sign up for Activating the Voice, you are signing up for a healing process, an awakening of dynamic creative energy, and an accountability to self-care and living your full truth. This is the 9th time it is being offered and past courses have left participants deeply transformed (and we have even witnessed people heal vocal and thyroid related health issues -- many folks have come to this course when Western medicine has failed to resolve illness located in the throat region). We have seen friendships and communities form around this work and continue to live on after the course ends.
Activating the Voice is designed for singers, people who have no interest in singing, anyone who has been told they have a "bad voice" and is scared of singing, those who would like to be able to say "no" more confidently, anyone who has trauma related to expressing their truth or anyone who has experienced physical trauma in their throat area, anyone who has lost touch with their creativity or feels stuck, anyone with health issues relating to the voice, anyone who feels unheard or has difficulty speaking up, those who wants to be more in touch with their emotions, anyone interested in learning about the chakras, and anyone who is seeking structure and connection with a supportive community.
If you find yourself nodding along with any of the following questions, this course has something to offer you:
Do you sometimes limit your speech for fear of "saying the wrong thing?"
Do you desire to be more in touch with your creativity and artistry?
Do you feel cultural conditioning has kept you from taking up space?
Do you have difficulty speaking up for yourself?
Are you looking to get more in touch with your singing voice (and have fun while doing so)?
Do you have difficulty sharing your creative work or speaking in public (performance anxiety)?
Have you ever felt alienated or punished for sharing your truth?
Are you wanting to create a healthier relationship with your art and creative process?
Are you looking to strengthen your ability to hear your intuition?
Do you find it challenging to identify and/or asking for your needs?
Do you often lose your voice, suffer from thyroid issues, have chronic sore throats, grind your teeth or suffer from sinus infections?
Is your identity and self-worth overly dependent on your voice? (This question is especially for those who have worked in the music and entertainment industry)
Do you ever feel that when you are in groups, you often feel unheard or talked over?
Do you desire to be more authentic in your relationships to others and in your relationship to yourself?
Do you limit expression of your own truth for fear you won't be met with acceptance?
The voice is an energetic center of both personal power and creativity. Throughout history, there are countless examples of great orators using their voice to inspire and mobilize movements. The voice is a pathway to instantly accessing the truth of our hearts and a connection to spirit -- consider the experience of having a song move you to tears unexpectedly. There is something mystical about the voice: It is felt and heard but not seen. In our visual culture, by nature of this very fact, the voice is radical, speaking to something deeper within us and potentially bring us into a non-distracted, inner presence.
Privately, the voice is a precious gift we all have for self-soothing. Many tears have been calmed through the lullaby of singing or the experience of writing a song or just listening to music that made you feel understood and less alone in the world. Whatever your inspiration is for getting to know your voice more intimately, it is a worthwhile and soul-fulfilling journey.
This course integrates a variety of different healing modalities: vocal exercises, dream interpretation, non-violent communication, ancestral work, creative writing, breathwork, yoga, chanting, singing, medicine songs, and affirmations. One of the joys of this experience is connecting to and being supported by a safe community that is co-processing this with you.
Each week corresponds to a specific chakra, starting with the root chakra and moving up to the crown. The chakra system is used as a bodily map to discover where in your personal or cultural history the voice began to be suppressed. In identifying these key moments, we are able to reframe the narrative of the voice beyond limiting beliefs, and you will begin to discover your voice and its wild power on new terms.
This course is led by singer, songwriter, and soundhealer Doe Paoro / Sonia (that's me ;) I am also certified in Reiki and as a yoga teacher, and I pull from many experiences working with the voice, music, and community as a form of healing.
What you will receive:
Opening New Moon Ceremony
7 weekly live sessions with recordings
Access to Membership on Sutra Platform with Supplemental Materials
Guest Speakers throughout the Course
Opportunities to Share your Creative Work
Morning Creative Writing Community Space
An accepting environment and the support and flexibility of community to have the experience be whatever you wish it to be
Investment: $139.99
We will begin the course on Sunday, January 16, 2022 at 9amPST/12 EST. This first session will last for an hour and forty-five minutes.
The remaining 6 sessions will also be on Sundays at the same time and same link but will only last for an hour and twenty minutes.
Course dates: January 16, 23, 30 and February 6, 13, 20, 27.
In the event that you're unable to attend a session, everything is recorded and you will have access to the recordings within 24 hours. *If you are not comfortable being recorded, please consider if this is the right course for you as we do need to record these sessions for those taking the course remotely."
If you feel called to attend but are limited by finances, please email info@doepaoro.com to discuss sliding scale or payment plans. Payment via Venmo is also possible to avoid Eventbrite fees. If you feel called to join, I want you to be there!
Please reach out with any questions. I look forward to this experience with you.
LEGAL DISCLAIMER from the facilitator:
I share this work because I truly believe that empowering the voice is a way that we begin a deep generational healing process around what has been silenced, suppressed, and dis-embodied both individually and collectively. I have seen this work change lives through supporting meaningful personal transformation and am encouraged and inspired to continue sharing it based on these past experiences.
Everything I offer here is based on my personal and life experience exploring the voice as a singer and sound healer. By participating in this course, you acknowledge that I am not a licensed psychologist, medical doctor, or health care professional and my services do not replace the care of psychologists, doctors or other healthcare professionals. Please do not misconstrue this course as a substitute for psychological counseling or psychotherapy.
Working with the voice and chakras has the potential to stir up a variety of different emotional responses because you are embarking on a process of giving expression to that which has been unexpressed or even repressed. If you have been treated for, or believe you may have suffered from a psychological and/or traumatic injury, please consider if you are in a position to safely engage with the course at this time, and/or consider enlisting the support of a professional who can be a resource to you both during and after the course.
Voluntary Participation
By choosing to sign up for this course, you understand and agree that you are voluntarily choosing to participate and are solely responsible for any outcomes or results (positive or negative.) I cannot be responsible for any action you may choose to take regarding the information provided, and you acknowledge and agree that I am not responsible nor liable to you should you sustain any negative ramifications. You agree that you are fully responsible for your health and well-being, and any decisions you make to implement or follow anything offered in this course.