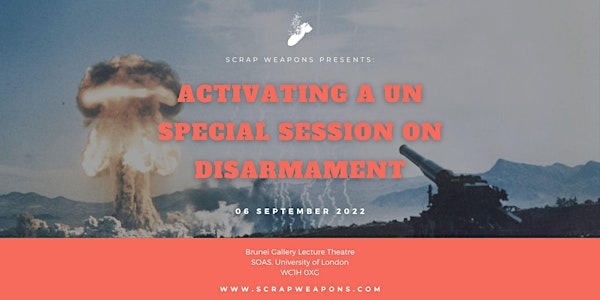 Activating a UN Special Session on Disarmament
A conference seeking to build a constituency working towards the implementation of a UN Special Session on Disarmament.
When and where
Location
Brunei Gallery Lecture Theatre, SOAS University Russell Square London WC1H 0XG United Kingdom
About this event
Version française ci-dessous.
SCRAP Weapons' Hybrid Conference on Activating a Special Session of the United Nations General Assembly Devoted to Disarmament is being hosted at SOAS, University of London on 6th September 2022. The conference will be held in hybrid mode in English and French through simultaneous interpretation.
The conference will comprise of talks, round-table discussions and Q&A sessions with the audience. Speakers will include representatives from national governments and international organisations, as well as leaders from non-governmental organisations and religious groups from around the world.
The conference will be held in hybrid mode. If you wish to participate online please register here. Please note a zoom account will be required to join the online conference.
For more information and to see the programme please visit our website here.
Une conférence visant à créer un réseau de personnes travaillant à la mise en œuvre d'une session spéciale de l'ONU sur le désarmement.
A propos de cet événement
La conférence hybride de SCRAP Weapons sur l'activation d'une session spéciale de l'Assemblée générale des Nations Unies consacrée au désarmement se tiendra à SOAS, Université de Londres, le 6 septembre 2022. La conférence se déroulera en mode hybride en anglais et en français avec interprétation simultanée.
La conférence comprendra des exposés, des tables rondes et des séances de questions-réponses avec le public. Les intervenants seront des représentants de gouvernements nationaux et d'organisations internationales, ainsi que des dirigeants d'organisations non gouvernementales et de groupes religieux du monde entier.
La conférence se déroulera en mode hybride. Si vous souhaitez participer en ligne, veuillez vous inscrire ici. Veuillez noter qu'un compte zoom sera nécessaire pour participer à la conférence en ligne.
Pour plus d'informations et pour consulter le programme, veuillez visiter notre site web ici.