Description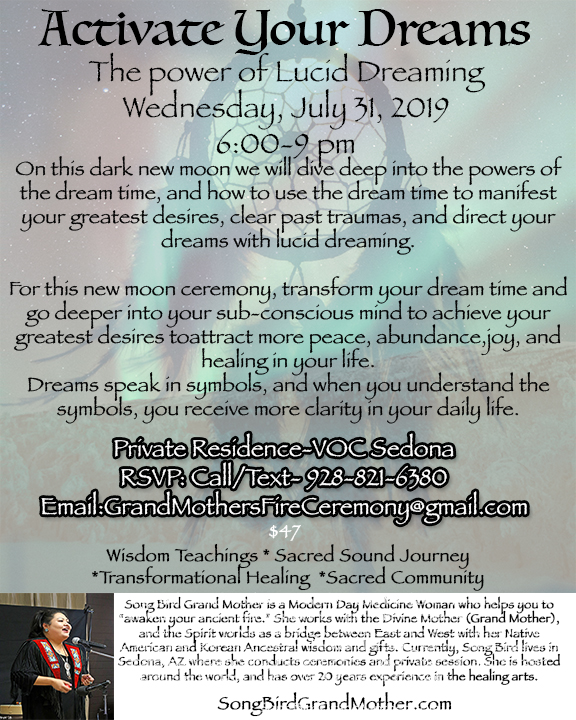 Do you have active night dreams?
Perhaps you have had dreams that foretell future events or gifted your inspiration and/or ideas?

Maybe you have always been fascinated with dreams, and would like to understand how to interpret them, what they are telling you, and how to direct them to achieve greater success, peace, and abundance in your waking life?

For this powerful New Moon, the second new moon to finish out the month of July, we will dive deeper into the subconscious world of dreams, and go into the different types of dreams, how to lucid dream, and what the Dreamtime is telling you about your life.

There are different types of dreams:
*Prophecy dreams
*Emotional Clearing dreams
*De Ja Vu dreams
*Subconscious dreams
*Spiritual dreams where ancestors visit
*Past life dreams
*Nightmares
*And more.

All dreams have meaning, offer direction, and speak in the language of symbol.

On this dark new moon we will dive deep into the powers of the dream time, and how to use the dream time to manifest your greatest desires, clear past traumas, and direct your dreams with lucid dreaming.

For this new moon ceremony, transform your dream time and go deeper into your subconscious mind to achieve your greatest desires to attract more peace, abundance, joy, and healing in your life.

Dreams speak in symbols, and when you understand the symbols, you receive more clarity in your daily life.

Things to bring for you:
Open heart,
Open Mind
Notebook/pen
Wear Comfortable clothing
Water Pillow/blanket

Anything you would like "charged" on our altar (Jewelry, stones, pictures etc...) It is the proper protocol to bring a gift to the host please bring one of the following: Cedar, tobacco, sweet grass, sage, lavender, palo santo, Juniper, Cornmeal or pollen, Mugwort, or another sacred herb (All herbs are used in future ceremonies and will continue to bless your path)

***No food so please come nourished.****

Please plan to arrive 10-15 minutes before so we can begin on time.

If you have any questions or concerns please call or text: 928-821-6380 or email: GrandMothersFireCeremony@gmail.com

The address is given when you confirm your ticket.