Description
For event details please visit our website:
www.activate2018.com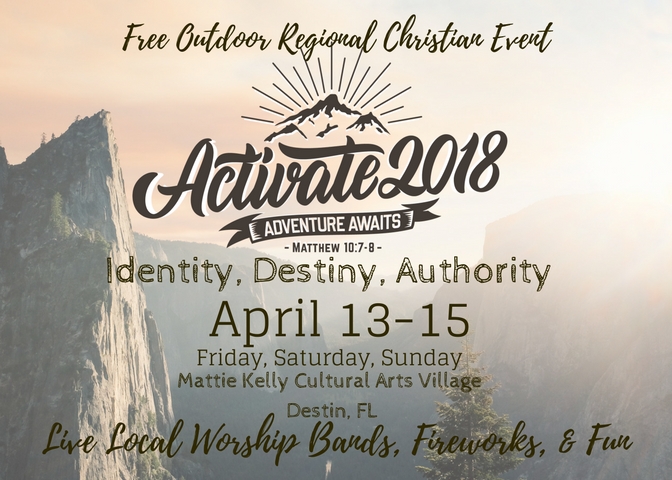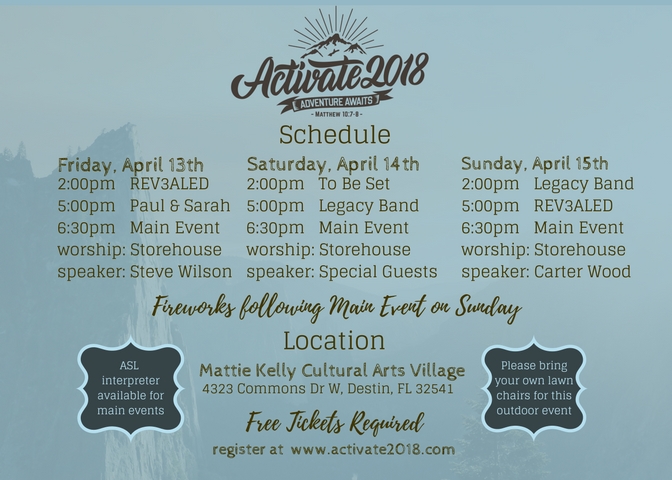 VISION
A powerful move of God has begun within the body of Christ that goes beyond the church walls. It is the releasing of the Sons and Daughters of God to first come together like never before and then to go out together into the world for the greatest adventure ever known. We are destoying the barriers that have separated the body of Christ. This event isn't about a church, it's about THE CHURCH. We ARE THE CHURCH! Last year we saw multiple local congregations and ministry leaders come together during ACTIVATE 2017. The result was a mighty move of God that united the body of Christ as God poured out His great love on us. Every church that hosted the event experienced the overflow of God's glory in their own Sunday morning services. We are a generation tired of the old wine skin of religion that told us to fear each other and to remain isolated. It's time to gather the posse and saddle up because we, the body of Christ, have a "trail to blaze of God's unending grace". During Activate 2018 we believe that God desires to immerse us in His LOVE once again as our Father. This baptism of love will infuse the hearts of His sons and daughters with identity, destiny, and authority. We need those with a pioneer spirit for this supernatural advancing of Sons and Daughters to come and go with us. Will you ride with us? The Great Adventure Awaits!! Why not us? Why not Now?
7 As you go, proclaim this message: 'The kingdom of heaven has come near.'8 Heal the sick, raise the dead, cleanse those who have leprosy, drive out demons. Freely you have received; freely give.-Matthew 10:7& 8
see website for Event Details: www.activate2018.com
Be sure to BRING YOUR OWN LAWN CHAIRS!