Refund policy
Contact the organizer to request a refund.
Eventbrite's fee is nonrefundable.
Action Research Together | Meme-ify: An Attempt To Dance Through Pain with Humour
About this event
26,27 September 2020 (Sat, Sun)
10am-1pm BST
Online Participation
Project link: https://www.ghostandjohn.art/meme-ify
Resistance*1000days = Fatigue. Now what? How do we continue?
As we are getting tired from our ongoing resistance and fight for progression and freedom, it is time for exploring ways to review, rethink and remember. We receiving violent and horrible journal images on our phones every day, slowly our minds adapt and think "that's just the usual". We can see how journalists in Hong Kong are using memes on social media to attract our attention. Netizens are also creating their own art, including rewriting lyrics of pop songs, making telegram stickers and more. The government of Taiwan is also adapting the use of memes in spreading news and debunking myths. We started to think maybe meme-ifying is the new way to combating the absurdity of our world.
On 26 and 27 September between 10am – 1pm BST, Framer Framed and Young Blood Initiative will host a 2-day online action research workshop facilitated by Ghost and John, concerning humour as a strategy to combat activist fatigue and absurdity of the contemporary society. We investigate how this translation from journal images to meme can be a tool for devising performance. If you are interested in further exploring activism and performance, we invite you to be participating in this workshop with us online.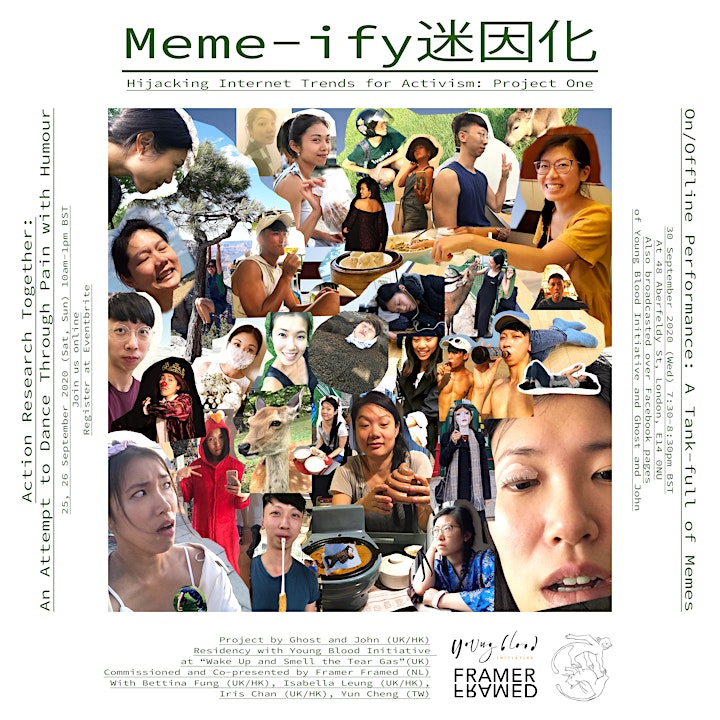 Here is a shortlist of things that you need to bring:
- An open mind and body
- Willingness to both listen and share
- A small stack of newspapers
- Your electronic gadgets: phones and tablets with social media apps installed
- Pencil and paper
- Your set of artist supplies: scissors, cardboard, strings, glue, markers, crayons…
Facilitator: Ghost and John
Core research team: Bettina Fung, Isabella Leung, Iris Chan, Yun Cheng
Fee: Free, but if you want to support Ghost & John for their works, please donate.
*Registration is essential, no matter what*
Max. no. of online participants: 30
We encourage our participants to be with us throughout the two days.
For participants located in the NL, please PM us, and we can send you a Tikkie for the tickets.
---------------
This is part of 'Wake Up & Smell the Tear Gas", a project by Young Blood Initiative, exploring, reflecting what art could do in this moment of turmoil and unrests as well as the relationship between art and activism. This is a project commissioned and co-presented by Framer Framed.
ABOUT GHOST AND JOHN
Ghost and John are a Hongkongese multidisciplinary art duo, currently based between London and Hong Kong. From Computer Science and Biology backgrounds, we investigate how art is being received by society and is the tool for political resistance, utilising digital interactive technology to influence theatre politics. We are a danceWEB scholarship recipient and a young choreographer in ATLAS at ImPulsTanz - Vienna International Dance Festival 2019 respectively. We have recently completed our MA Contemporary Dance at London Contemporary Dance School. We are now artist members of Chisenhale Dance Space, artists in residence at Live Art Development Agency and artist fellows of Hong Kong Dance Alliance.
Growing up in Hong Kong, we were bombarded by cultures of surrounding East Asian countries and also western countries, together with its complex history as a British colony, our cultural and national identity has been very troubled and confused. In recent years, the issues of political oppression in Hong Kong has risen to international attention and became our main drive to make works that reflect on our perspective and archive this time of instability that we are all in. We focus on an experimental artistic practice that emphasises collaboration between artforms and audience experience. Through both the making and presenting of our works, we are constantly studying the post-colonial trauma of my city, questioning the cultural identity of being a Hongkongese and challenging new forms of arts.
ABOUT YOUNG BLOOD INITIATIVE
An art organisation, a platform, a community, a collective.
Young Blood Initiative aims to showcase collaborative practice, creating a community where artists can explore other ways to create, acting as a platform where they can experiment to go outside of their usual practice and to play. Since launching in 2014, Young Blood Initiative has brought to the public showcases themed around current affairs, fusing different creative disciplines through art exhibitions, live art events, lectures and public interventions.
ABOUT FRAMER FRAMED
Framer Framed is a platform for contemporary art, visual culture, and critical theory & practice. Each year the organisation presents a variety of exhibitions in collaboration with both emerging and established international curators and artists. An extensive public program is organised alongside these exhibitions in order to shed light on the topics concerned, and provide a wide range of perspectives. With this common space for dialogue, Framer Framed aims to show a plurality of voices in a globalized society.