Action Potential: Meet The Psychiatric Residents at Community Health Networ...
Description
Action Potential is an informal happy hour and meet and greet, intended to create a friendly space for professionals to meet and feel comfortable having discussions that could lead to collaboration efforts down the road.
There is no registration charge and no formal presentation. Each meet and greet is designed to feature a guest (or in this case an entire TEAM of fantastic practitioners) and create conversations around the work that they are currently focusing on that they feel is important to share. We welcome any guests to join us that believe they could contribute to the conversations surrounding the featured guests and their initiatives.
In attendance for this feature, we hope to see leaders and influencers across the healthcare spectrum, including substance abuse treatment, rural health, child and adolescent care, and behavioral and mental health care. You are responsible for your drinks, and I am responsible for bringing some great people together!

My featured guests are The 2017 Psychiatric Residents at Community Health Network - Behavioral Health. Community Health Network's focus with their residency program is to provide their residents the educational opportunities, clinical experiences, supervision, and mentorship to guide them in finding success at the forefront of the evolving role of Psychiatry in healthcare.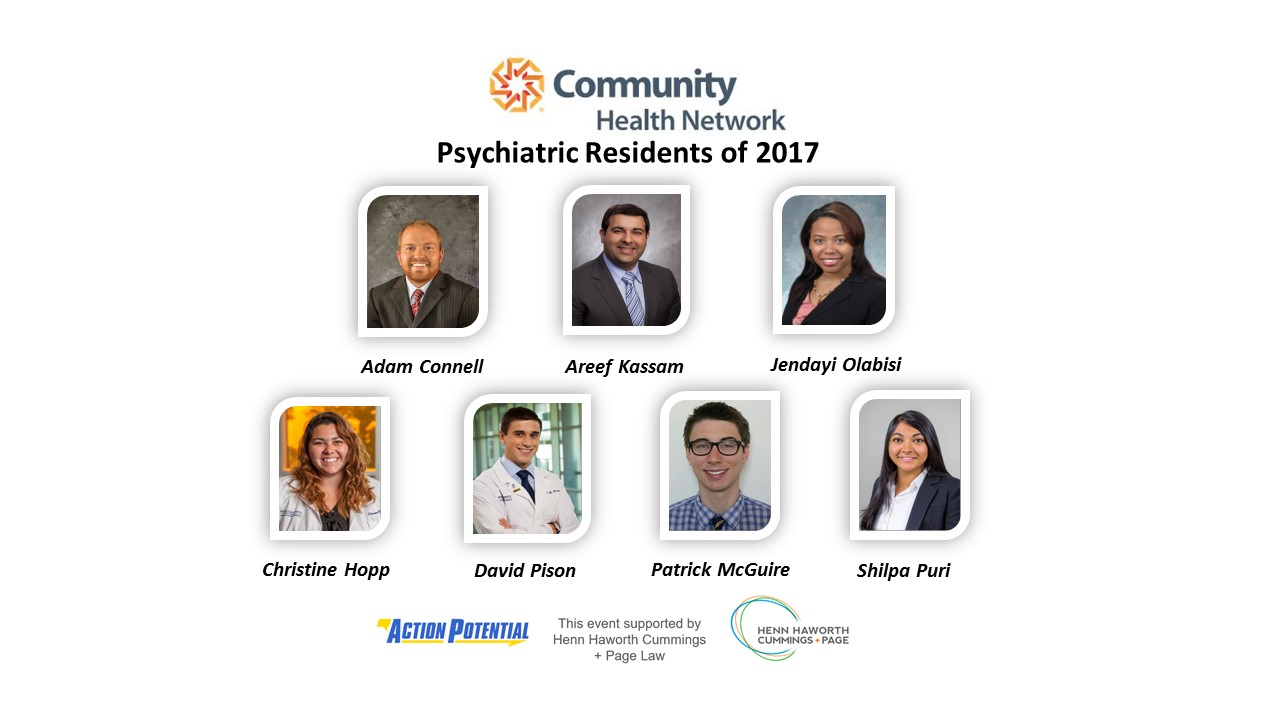 A little bit about each of these impressive Psychiatric Residents:
Adam Connell attended St. Louis University, where he completed his undergraduate degree in Neuroscience and proceeded to medical school. Medical school clinical rotations confirmed Adam's interest in psychiatry. His interests include addictions and rural psychiatry.
Areef Kassam received his BS in Biology at Purdue University. Areef graduated from the Medical University of the Americas in September, 2014. After completion of medical school, Areef finished his Master's Degree in Health Services Administration at Indiana University, performed psychiatry externships for additional clinical experience, and volunteered as a Court Appointed Special Advocate. Areef is interested in Child and Adolescent Psychiatry and mental health advocacy.
Christine Hopp received her BS in Neuroscience from the University of Evansville. She was a part of the first graduating class of Marian University College of Osteopathic Medicine in May. Chrissy has extensive volunteer experience to support the community—such as tutoring during high school and college, volunteer tennis instructor at Warren Central High School, Indy Parks and Rec volunteer, and a hospice volunteer.
David Pison completed his undergraduate studies at Purdue with a BS in Health Sciences, Biology, and Spanish. He graduated from Marian University College of Osteopathic Medicine (MUCOM) in May. He has served as the student delegate on the ISMA Board of Trustees. David's professional interests include preventative medicine, advocacy, and health care policy, which aligns very well with Community Health Network's Behavioral Health Services.
Jendayi Olabisi obtained a BS degree in Biology from the University of Indianapolis and her Master's Degree in Biotechnology from the University of South Carolina. Jendayi then went to Indiana University School of Medicine for her medical training. Psychiatry was not initially on her radar, but through her clerkship training her interest in psychiatry was established and confirmed. Jendayi is intent on delivering person centered care, rather than problem focused treatment.
Patrick McGuire went to undergraduate school at the University of Central Florida where he earned a BS in Psychology. Patrick graduated from the Alabama College of Osteopathic Medicine this spring. Patrick was actively involved as a Team Leader for his medical school class's Primary Clinical Skills Quality Improvement Team. He also has served as a council board member for the Make a Wish Foundation, and he is a "Trained Wish Granter."
Shilpa Puri earned a BS in Psychobiology at UCLA. She served as a behavioral therapist prior to medical school, where she worked with students with ADHD and Autism. She recently graduated from St. George's University School of Medicine. Shilpa has engaged in a variety of research topics, including reducing health disparities among Latino Youth, ADHD, genetic influence on parenting and child behavior. She also volunteered as a GED tutor for individuals in a homeless shelter and explored traditional Thai medical practices during a Medical Selective in Thailand.
Guests are welcome to come and go as their time allows, contributing to the conversations as they are able. Please come with questions to pose to all of these behavioral health practitioners about the important work that they are doing through Community Health Network!
You may reach out to Tiffany Hanson with any questions about the event. Her email address is tiffany.hanson@hhcfirm.com.

***What is Action Potential? In physiology, an "action potential" is a short-lasting event in which the electrical membrane potential of a cell rapidly rises and falls, following a consistent trajectory. In certain types of cells, their main function is to activate intracellular processes.
These Action Potential Networking Events have been designed to activate the energy, connections, and insightful conversations that will lead to collaborative relationships and positive business outcomes.***