Action Potential: Meet The Indiana Disability Rights' Executive Team
Description
Action Potential is an informal happy hour and meet and greet, intended to create a friendly space for professionals to meet and feel comfortable having discussions that could lead to collaboration efforts down the road.
There is no registration charge and no formal presentation. Each meet and greet is designed to feature a guest (or in this case an entire executive team!) and create conversations around the work that they are currently focusing on that they feel is important to share. We welcome any guests to join us that believe they could contribute to the conversations surrounding the featured guests and their initiatives.
In attendance for this feature, we hope to see leaders and influencers in the community who are interested in supporting and caring for members of our community with disabilities. You are responsible for your drinks, and I am responsible for bringing some great people together!

My featured guests are The Executive Team of Indiana Disability Rights. Their mission is to protect and promote the rights of individuals with disabilities through empowerment and advocacy. Their vision is to live in a society where persons with disabilities are free from abuse and neglect, are free to be effective self-advocates, and are free of discrimination; allowing for full inclusion in society.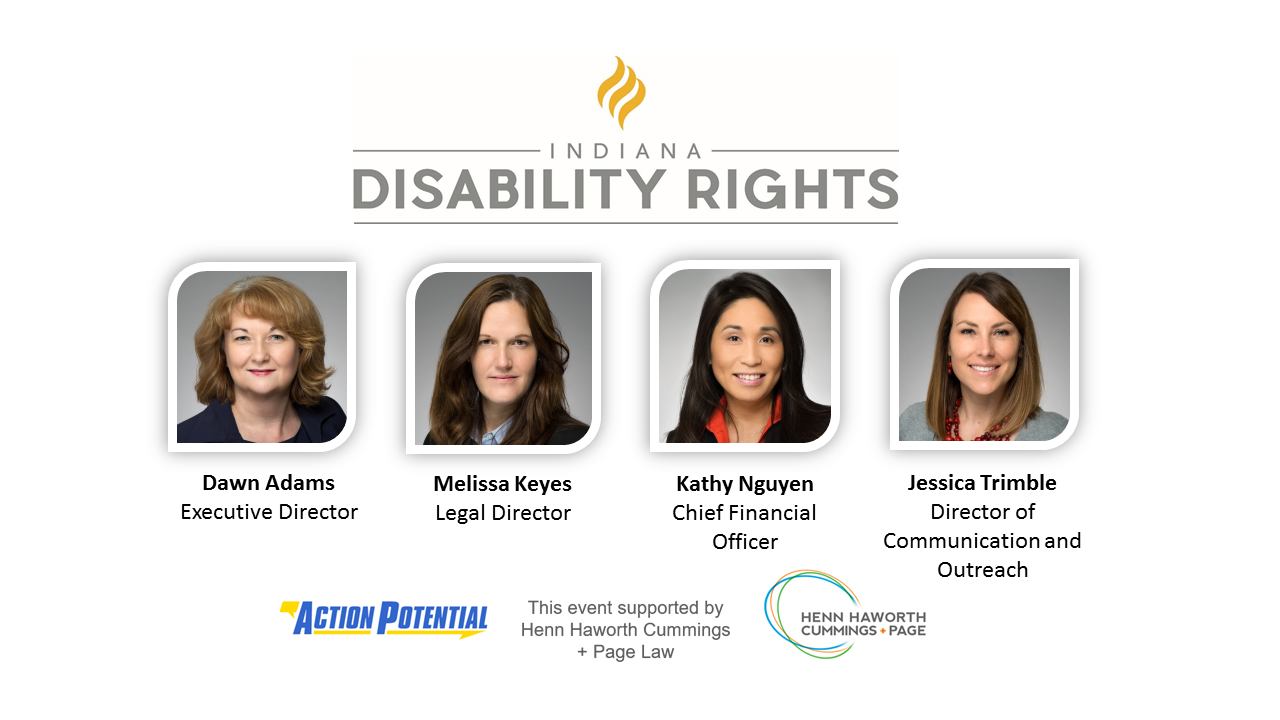 The Executive Team for Indiana Disability Rights showcases the ability for leaders to be change agents within their organization and their external network. Coming from different backgrounds, areas of expertise, and personalities, Dawn, Melissa, Kathy, and Jessica show that collaborative female leadership can be supportive, empowering, and a really good time.
Dawn Adams, Executive Director
Dawn has served as Executive Director of Indiana Disability Rights since October 2014. Dawn has lead the agency through significant organizational changes that have increased efficiency and impact and is seen as an agent of change in the national Protection & Advocacy (P&A) sphere.
Melissa Keyes, Legal Director
Melissa Keyes has served as Legal Director of Indiana Disability Rights since January 2014. It was her vision for improving service delivery and design for a complete organizational restructuring that has prioritized a team based approach for attorneys and advocates.
Kathy Nguyen, Chief Financial Officer
Kathy has served as Senior Accountant from January 2016 – July 2016 and returned to serve as Chief Financial Officer of Indiana Disability Rights in February of 2017. Kathy has ensured compliance with state and federal regulations by initiating process improvements that have impacted all areas of finance.
Jessica Trimble, Director of Communication and Outreach
Jessica has served as the Director of Communication and Outreach since April 2015. She led the rebranding of the organization in May 2016 and, through marketing and social media, has increased the profile of the agency locally and nationally.
Guests are welcome to come and go as their time allows, contributing to the conversations as they are able. Please come with questions to pose to these four fabulous executive women about the important work that they are doing with Indiana Disability Rights!
You may reach out to Tiffany Hanson with any questions about the event. Her email address is tiffany.hanson@hhcfirm.com.


***What is Action Potential? In physiology, an "action potential" is a short-lasting event in which the electrical membrane potential of a cell rapidly rises and falls, following a consistent trajectory. In certain types of cells, their main function is to activate intracellular processes.
These Action Potential networking events have been designed to activate the energy, connections, and insightful conversations that will lead to collaborative relationships and positive business outcomes.***