Action Potential: Meet the Executive Team for the New & Upcoming Stonecrest...
Description
Action Potential is an informal happy hour and meet and greet, intended to create a friendly space for professionals to meet and feel comfortable having discussions that could lead to collaboration efforts down the road.
There is no registration charge and no formal presentation. Each meet and greet is designed to feature a guest and create conversations around the work that they are currently focusing on that they feel is important to share. We welcome any guests to join us that believe they could contribute to the conversations surrounding the featured guests and their initiatives.
In attendance for this feature, we hope to see leaders and influencers in the community who are interested in senior care, and diversity and inclusion in employment as well as in clientele base. You are responsible for your drinks, and I am responsible for bringing some great people together!

My featured guests for this event are Linda Wise, Executive Director, and Trish Mong, Director of Marketing and Community Relations, for Stonecrest of Meridian Hills Senior Living. Stonecrest of Meridian Hills is just finishing up on the construction of their gorgeous building. These ladies are preparing their property, assembling their team, and putting their best face forward to the community to prepare to open their facility later this year.
Linda and Trish have been extremely mindful to place diversity and inclusion at the forefront of their hiring process, as well as their efforts to reach out to the community. It is extremely important for them to communicate to their future residents and the surrounding community that they welcome employees and clients from all backgrouds, regardless of race, religion, sexual orientation, and gender identity. Their mission is to provide loving support in a vibrant, world class community.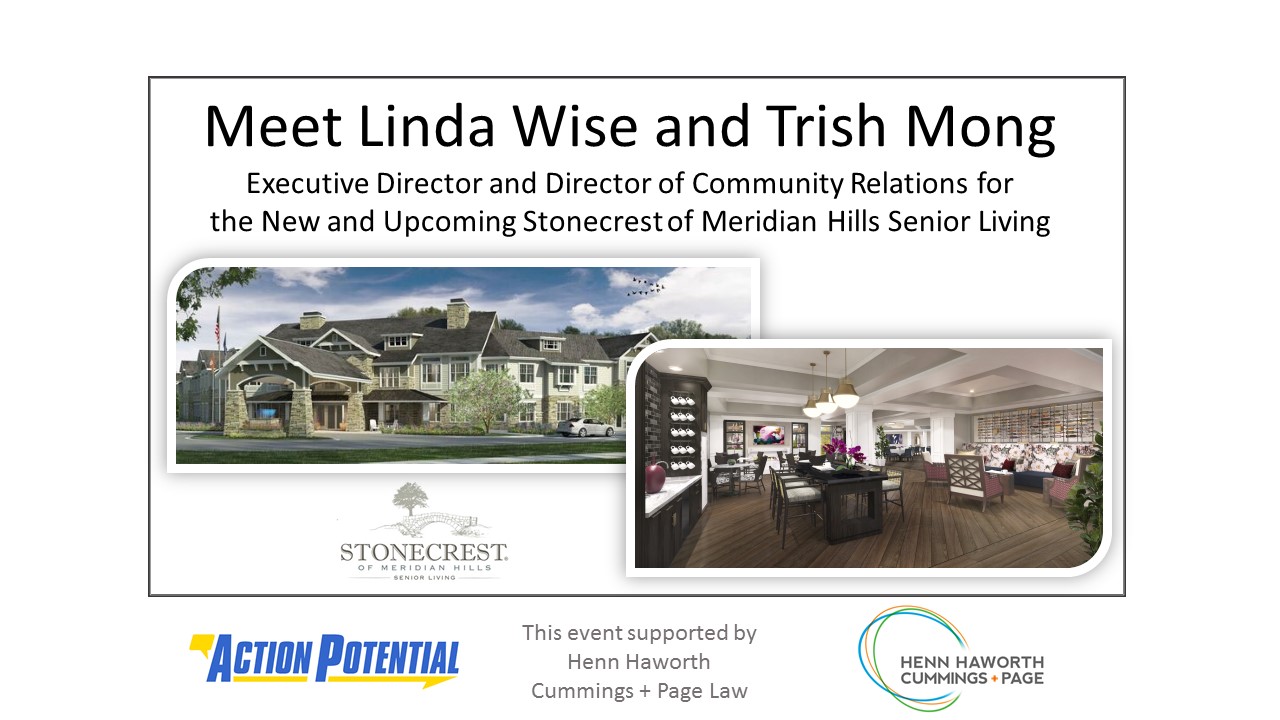 When complete, Stonecrest of Meridian Hills will be comprised of 55 private apartments in Assisted Living including studio, one-bedroom suites and two-bedroom suites. They will have 30 suites within a specially designed Memory Care neighborhood with a wonderful and secured courtyard.
Individual choice and personal preferences are paramount at Stonecrest. Their individually tailored programs provide the stability and safety needed for the independence their residents desire. They strive to enhance the experience of their residents with special attention to customizing their support around each resident's lifestyle.
They are beginning their hiring process this fall and hope to host a grand opening this winter!
Guests for this event are welcome to come and go as their time allows, contributing to the conversations as they are able. Please come with questions to pose to Linda and Trish about the important work that they are doing to support seniors in our community!
You may reach out to Tiffany Hanson with any questions about the event. Her email address is tiffany.hanson@hhcfirm.com.


***What is Action Potential? In physiology, an "action potential" is a short-lasting event in which the electrical membrane potential of a cell rapidly rises and falls. In certain types of cells, their main function is to activate intracellular processes. These Action Potential networking events have been designed to activate the energy, connections, and insightful conversations that will lead to collaborative relationships and positive business outcomes.***