Action Potential: Meet The Energy Krazed Team
Description
Action Potential is an informal happy hour and meet and greet, intended to create a friendly space for professionals to meet and feel comfortable having discussions that could lead to collaboration efforts down the road.
There is no registration charge and no formal presentation. Each meet and greet is designed to feature a guest (or in this case an entire team!) and create conversations around the work that they are currently focusing on that they feel is important to share. We welcome any guests to join us that believe they could contribute to the conversations surrounding the featured guests and their initiatives.
In attendance for this feature, we hope to see leaders and influencers in the community who are interested in social responsibility and charity work, health and wellness of youth, and population health management projects. You are responsible for your drinks, and I am responsible for bringing some great people together!

My featured guests are The Energy Krazed Team. They are dedicated to reducing childhood obesity in Central Indiana by empowering youth to take charge of their minds, bodies, and ultimately their futures. They offer fully-funded 9 week in-home services and school based programming to obese teens to teach them how to live a healthier life through right meals, right moves, and right minds.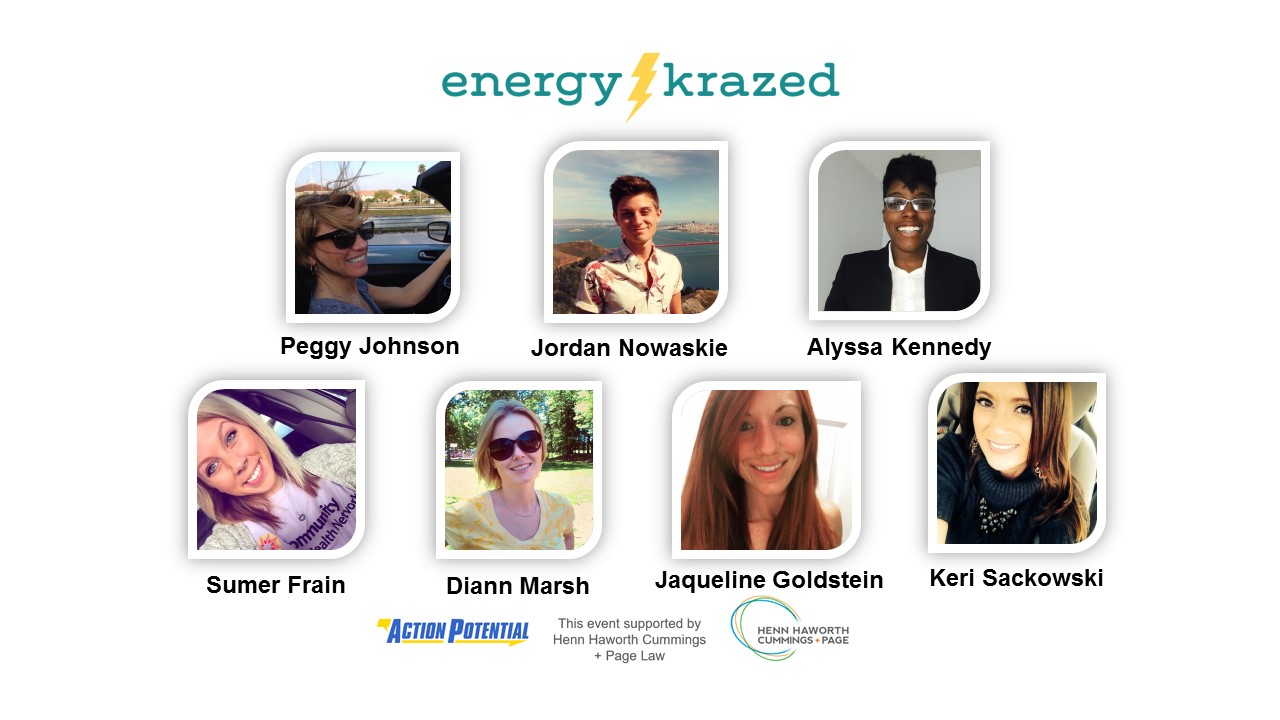 Peggy Johnson- Founder and President
Jordan Nowaskie- Co-Founder
Alyssa Kennedy- Director of Operations
Sumer Frain- Personal Health Coach
Diann Marsh- Program Development
Jacqueline Goldstein- Director of Personal Training and Health Coaching
Keri Sackowski- Program Development
The current healthcare delivery system emphasizes the use of expensive tests and medications that unfortunately fail to fully address and correct the nutrition and lifestyle habits that are negatively affecting Marion and surrounding counties – that is the gap Energy Krazed is trying to fill. Energy Krazed offers a 9 week program to individual students, as well as group programs for schools.
Here are some common successes and results of the Energy Krazed 9 Week Program:

Average 10lbs weight loss per child

80% of their teens show a decrease in stress during the 9 week program

They are decreasing BMI's, decreasing blood glucose levels, getting teens off of sleep apnea machines

They are connecting teens to resources that benefit them and their families

They conduct pantry assessments, meal prep, and grocery store visits with students and their parents
VOLUNTEER OPPORTUNITY!! If you'd like to find ways to support the work the Energy Krazed Team is doing, there is an upcoming volunteer opportunity at the Superhero 5k Run. Volunteers can sign up and receive all volunteer information here: http://www.signupgenius.com/go/5080d4aadac2babfd0-superhero.
Guests are welcome to come and go as their time allows, contributing to the conversations as they are able. Please come with questions to pose to this awesome team about the important work that they are doing in our community with Energy Krazed!
You may reach out to Tiffany Hanson with any questions about the event. Her email address is tiffany.hanson@hhcfirm.com.


***What is Action Potential? In physiology, an "action potential" is a short-lasting event in which the electrical membrane potential of a cell rapidly rises and falls, following a consistent trajectory. In certain types of cells, their main function is to activate intracellular processes.
These Action Potential networking events have been designed to activate the energy, connections, and insightful conversations that will lead to collaborative relationships and positive business outcomes.***