Action Potential: Meet Darshan Shah
Description
Action Potential is an informal happy hour and meet and greet, intended to create a friendly space for professionals to meet and feel comfortable having discussions that could lead to collaboration efforts down the road.
There is no registration charge and no formal presentation. Each meet and greet is designed to feature a guest and create conversations around the work that they are currently focusing on that they feel is important to share. We welcome any guests to join us that believe they could contribute to the conversations surrounding the featured guests and their initiatives.
In attendance for this feature, we hope to see leaders and influencers in the community who are interested in big data, population health management, and collaborative efforts to find solutions for the opioid crisis. You are responsible for your drinks, and I am responsible for bringing some great people together!

My featured guest for this event is Darshan Shah, Executive Director of the Management Performance Hub (MPH) for the State of Indiana. MPH is the leading organization nationally transforming state government through the use of data, analytics, BI and consulting to improve efficiencies and effectiveness while developing data-informed decision making to improve policy outcomes.
By working with state agencies and other partners, Darshan and his team are able to utilize world-class data science and analytics capabilities to solve the largest problems that many Hoosiers face.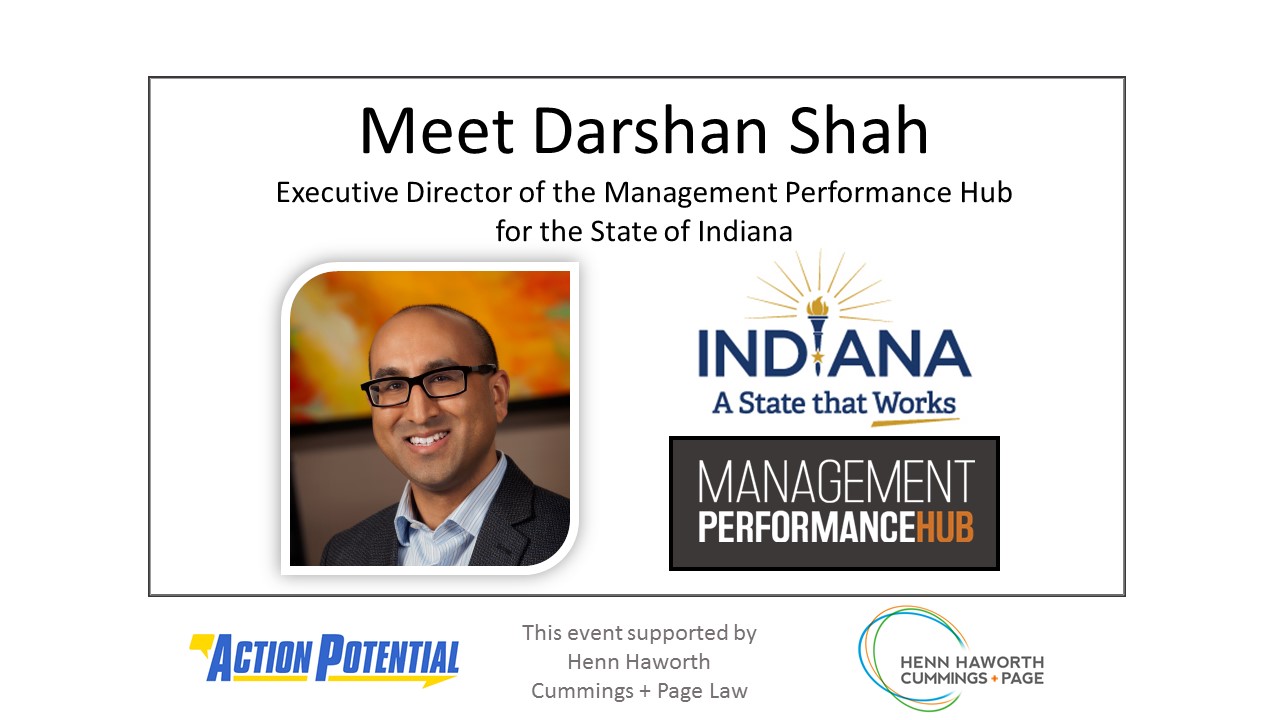 One project that Darshan is working on is bringing together big data from several different gathering resources to find solutions to the opioid epidemic here in Indiana. His job is to get all 16 agencies that deal with the drug problem to share information and hand it over to his team.
His employees then spend weeks examining all the data sets and cleaning up inaccurate or incomplete records. The next challenge is to get all the data, which often has been compiled in vastly different forms, into the same format, so the information can flow back and forth between the databases and "talk to each other." Then they use a variety of software tools to manipulate, model and map information to make it most useful—from geographic dots on a map to massive tables that list drug seizures per county by year.
Shah said his group's mission is simple, even if all the web-scraping and datamashing can be laborious: "We want to make the data digestible in a way that somebody can actually make decisions," he said. "That's what it boils down to."
This information is referenced from the Indianapolis Business Journal. Click on this link to read the full IBJ article: http://www.therepublic.com/2017/06/04/data_tackles_drug_issues/
Guests for this event are welcome to come and go as their time allows, contributing to the conversations as they are able. Please come with questions to pose to Darshan about the important work that he is doing in our community!
You may reach out to Tiffany Hanson with any questions about the event. Her email address is tiffany.hanson@hhcfirm.com.


***What is Action Potential? In physiology, an "action potential" is a short-lasting event in which the electrical membrane potential of a cell rapidly rises and falls, following a consistent trajectory. In certain types of cells, their main function is to activate intracellular processes.
These Action Potential networking events have been designed to activate the energy, connections, and insightful conversations that will lead to collaborative relationships and positive business outcomes.***