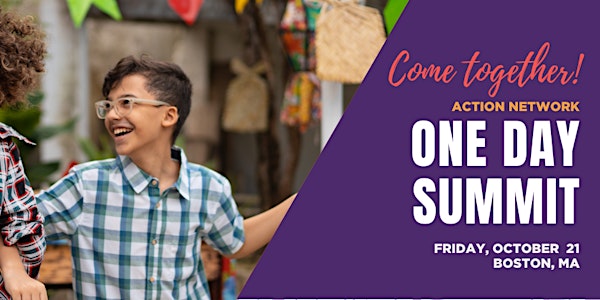 Action Network One Day Summit
It has been a long time since we could gather and work together IRL!
When and where
Location
The Nonprofit Center 89 South Street Boston, MA 02111
About this event
This One Day Summit is designed for collaboration, celebration, and learning how we can achieve more together to keep kids safe online and reduce excessive childhood screen use. No fancy speeches or celebrities-- this day is for you! We'll be breaking out into Work Groups or Interest Groups, examining what has worked well and discovering new ways to tackle seemingly insurmountable issues.
Register today. Space is limited.
Agenda
Opening Session: with Jean Rogers, Josh Golin & Joni Siani
Morning and Afternoon Breakout Collaboration Sessions: on topics such as EdTech, Mental Health, Legislation and Work Group Priorities.
Solutions Showcase: Witness your colleagues who have achieved success in these areas. Learn best practices. Get inspired to do more.
Synthesis of the Day: Criscillia Benford helps us process all we've talked about and learned.
Book Signing Event: Who's Raising the Kids? with author and Fairplay founder, Susan Linn
COVID-19 Policy:
In an effort to ensure the safety of all Fairplay staff and attendees, we are requiring that all individuals in attendance be "up to date" on COVID-19 vaccination OR test negative for COVID-19 within 48 hours prior to the start of the event. You are considered "up to date" with your COVID-19 vaccines when you have received all doses in the primary series and all boosters recommended for you, when eligible. Current CDC recommendations and definitions related to primary vaccine courses and booster shots can be found here:
https://www.cdc.gov/coronavirus/2019-ncov/vaccines/stay-up-to-date.html#recommendations
A universal face mask policy, regardless of vaccination status, is in effect for this event. This policy is subject to change, based on CDC recommendations and local, state, and federal mandates.
We'll have the opportunity to gather on the west coast in the spring! Stay tuned.