About this Event
"You Are Either The Next Billionaire, Or You Will Work For One."
Action Has No Season|We are putting over a Billion Dollars worth of influence and resources at your grasp January 31, 2020 through February 2, 2020. In Honor Of Business Mogul Dr. Michael V. Roberts and his book series Action Has No Season. For decades Dr. Roberts has built empires in Real Estate, Media and Investments and much more, and he shares a ton of insights in his new book Action Has No Season 2.0. We have partnered up with him and his teams as we are bringing this book to life so we wanted to take a journey with him during this conference for some upclose and personal interACTION.
EVENT TAKE AWAYS
Live Referral Distribution
Mentorship Matching Program
Action Has No Season 2.0 Book
Pitch To A Billionaire | Critical Components to Mastering OPM
6 - 8 Figure Business Review Of Your platform or Business with Live Critiques from those who have already accomplished those and or similar goals.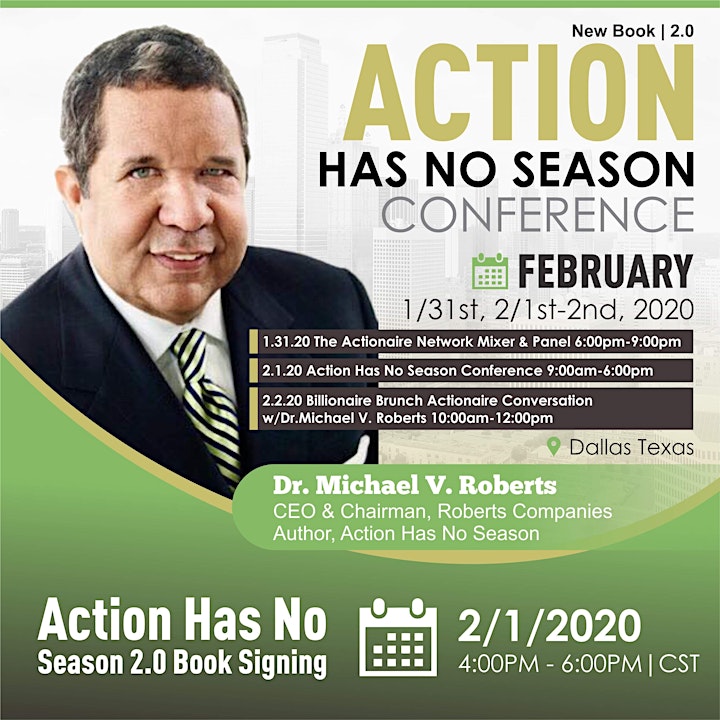 Action Has No Season Conference
Dallas, Texas Metroplex
Take Action on Billions of Dollars Worth Of Opportunities In One Conference
Calendar of Events
1.31.20
The Actionaire Network
Networthing Mixer & Book Signing
January 31, 2020
6:00p - 8:00p
2.1.20
Action Has No Season Conference
February 1, 2020
10:00a - 2:00p
Action Has No Season 2.0 Book Signing
Following Conference
2.2.20
Billionaire Brunch
An Actionaire Conversation w/Dr. Michael V. Roberts | Hosted by Dr. Omai Kofi
February 2, 2020
11:00a - 1:00p
CONFERENCE AGENDA
9:00a - 9:45a Sign In
10:00a - 10:30a Actionaire 101
10:30a - 11:30a A Billion Reasons Panel
Q & -A until Noon
Pre-Billionaire Brunch (VIP Tickets Only)
An Actionaire Conversation w/Dr. Michael V. Roberts
Moderated Brunch Hosted By Dr. Shirley Clark
• Billionaire Habits
• Recruit Like A Billionaire
• Zero To A Billion
(VIP Ticket Only|Paid Event)
Or
Noon - 12:45p My Nine Figures Lunch & Learn w/Dr. Omai Kofi (Included Event)
1:00p - 2:00p Q & A Pitch Session
Action Has No Season 2.0 Book Signing
Hosted By Jabez Books and Dr. Shirley Clark
Book Excerpt Discussion w/Dr. Michael V. Roberts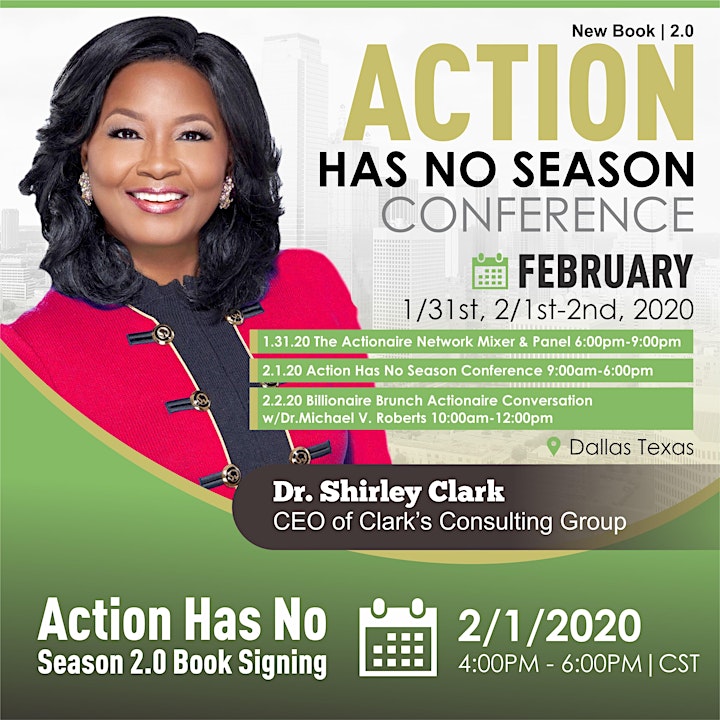 EVENT VENUES & LOCATIONS
Friday 1/31/2020
6637 Meadowbrook Drive
Fort Worth, TX 76112
Book Signing 6p - 8p
Saturday 2/1/2020
2200 Los Rios Blvd
Plano, TX 75074
Conference 10a - 2p
Sunday 2/2/2020
Location Will Be Announced At Conference
Billionaire Brunch 11a - 1p