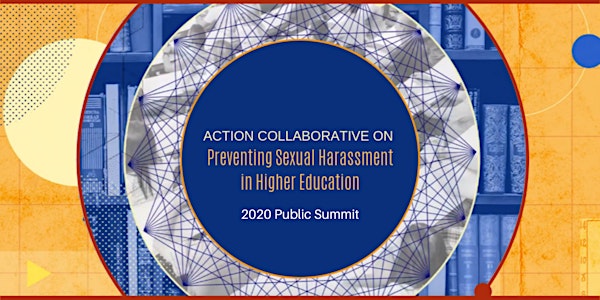 Action Collaborative on Preventing Sexual Harassment 2020 Summit
We welcome you to join us virtually for the Second Annual Action Collaborative Public Summit hosted by The University of Wisconsin System.
About this event
Sexual Harassment in higher education is pervasive, harmful, and costly. This has been emphasized by brave women recounting their experiences and by the findings in our report on the Sexual Harassment of Women. So let's get to work developing and implementing approaches that can prevent and address sexual harassment. To learn about promising approaches and innovative ideas or to share ideas about how to prevent and address sexual harassment, join us for the Second Annual Summit hosted by the National Academies' Action Collaborative on Preventing Sexual Harassment in Higher Education.
This Summit aims to identify and elevate promising practices for preventing sexual harassment in higher education. Through a combination of plenary sessions, panel discussions, and concurrent sessions, this day-and-a-half event will serve as an opportunity for members of the Action Collaborative and the broader higher education community to gather information, engage in a dialogue, and gain diverse perspectives on how to effectively prevent sexual harassment.
--
How to Attend the Summit:
There are a couple of steps involved because we are trying to create an interactive meeting and also one that allows for a respectful and private place to discuss sensitive topics. This Summit will not be a passive webinar.
Find the email from the Virtual Meeting Platform: After you register on Eventbrite, you will receive an email from "Action Collaborative on Preventing Sexual Harassment in Higher Education" with an email address of no-reply@pathable.com (please check both your inbox and your Spam folder for the message). This email has a personalized link at the bottom that will take you to the event platform for attending the summit. Upon clicking the link, you will need to create a password for your account. Then you will be given the option of adding additional information to your profile for other attendees to see. Once you finish that you can navigate to the meeting session pages by going to the "Schedule" tab and then "Agenda".
The day of the meeting, return to the Virtual Meeting Platform (https://acpublicsummit2020.pathable.co/), log in, and then navigate to a specific agenda session to start watching a session. At the appropriate start time, the session will allow you to start viewing the live webinar.
If you would like to know more about the Virtual Meeting Platform, we recommend watching this short 3-minute video that provides an overview of how things work: https://vimeo.com/453752708
--
The National Academies of Sciences, Engineering, and Medicine (NASEM) are committed to the principles of diversity, integrity, civility, and respect in all of our activities. We look to you to be a partner in this commitment by helping us to maintain a professional and cordial environment. All forms of discrimination, harassment, and bullying are prohibited in any NASEM activity. This commitment applies to all participants in all settings and locations in which NASEM work and activities are conducted, including committee meetings, workshops, conferences, and other work and social functions where employees, volunteers, sponsors, vendors, or guests are present.
NASEM Policy on Discrimination, Harassment, and Bullying: http://www.nationalacademies.org/about/NA_186023.html